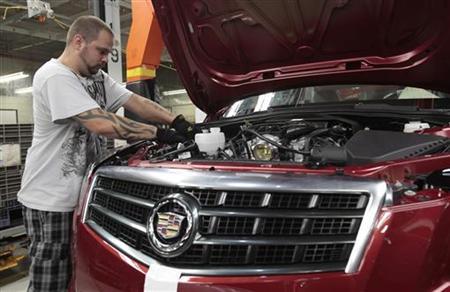 DETROIT (Reuters) - General Motors Co (GM.N) posted a stronger-than-expected quarterly profit as its loss in Europe was not as bad as feared, and its results were boosted by delayed spending in North America.
Analysts said GM's North American outperformance added 14 cents to the second-quarter results, helping the company top Wall Street's expectations by 16 cents. GM's shares were down 2 percent in midday trading.
However, GM, which delayed the spending to the third quarter, said its average profit outlook for the second and third quarters combined in North America would still be the same as previously forecast, suggesting analysts may need to cut their estimates for the third quarter.
GM had previously said its second- and third-quarter operating profit in North America would be similar to the $1.7 billion it reported in the first quarter. It earned $1.97 billion in the second quarter, implying it would earn about $1.4 billion in the third quarter, analysts said.
GM said on a conference call that the delayed spending had to do with reallocating advertising money around the Olympics, engineering costs related to the redesigned full-size trucks being launched next year and additional production downtime.
Net income attributable to common shareholders in the second quarter fell 41 percent to $1.49 billion, or 90 cents a share, compared with $2.52 billion, or $1.54 a share, in the year-earlier quarter. Analysts polled by Thomson Reuters I/B/E/S had expected 74 cents a share.
Revenue fell to $37.6 billion from $39.4 billion a year before as the stronger U.S. dollar hurt results. Analysts had expected $38.58 billion.
Jefferies analyst Peter Nesvold said the shifting of earnings was overshadowed, however, by the better-than- anticipated performance in Europe, where GM lost $361 million. Analysts polled by StreetAccount had expected a loss of $426 million. GM rival Ford Motor Co (F.N) lost $404 million in the second quarter in Europe.
"Is Europe a function of execution or is it the calm before the storm?" said Nesvold, who has a "hold" rating on GM shares.
"I feel like Europe will continue to be a black hole until we're at least able to frame the magnitude of the downturn," he added. "They showed some nimbleness in this quarter that they have not shown so far since the new GM went public. People will remain skeptical though before they want to give them any credit."
GM officials acknowledged Europe -- where GM sells the Opel and Vauxhall brands -- remained challenging and they declined to say when it would return to profitability in that region, where it has racked up 12 years of losses.
"We clearly have more work to do to offset the headwinds we face, especially in regions like Europe and South America," GM Chief Executive Dan Akerson said.
GM has made progress on all the key components of Opel's restructuring, and management and German labor unions continue talks on improving productivity and reducing costs and manufacturing capacity with an agreement expected between the sides this autumn, he added.
GM's loss in Europe compared with a profit a year ago of $102 million. Chief Financial Officer Dan Ammann said the industry overall will face a challenging European environment in the second half of the year.
Opel board Chairman Stephen Girsky said GM did not react quickly enough to the deepening crisis in Europe and was working hard to cut costs and bureaucracy there.
Ammann, who expects global business trends in the second half similar to the first six months, said GM would address high Opel vehicle inventories in the third and fourth quarters. Morgan Stanley analyst Adam Jonas said Europe is likely to lose materially more money in the second half of the year compared with the first six months.
Part of GM's cost-cutting strategy in Europe included forming an alliance with and taking a small stake in PSA Peugeot Citroen (PEUP.PA). However, executives said GM will not inject additional capital into the struggling French automaker, which is cutting more than 10,000 domestic jobs.
"We have no intention of putting more money into PSA," Ammann said.
Opel has been a drag on GM's results, leading the automaker to push for changes at the money-losing European unit, including ousting the CEO last month. Ammann declined to say when a permanent replacement would be named.
Opel's supervisory board had previously approved a mid-term business plan, which runs through 2016. But real savings in a restructuring will not come until GM negotiates a deal with labor unions to close the Bochum, Germany, plant after 2016.
In 2009, GM decided Opel was too strategic a part of its global business to sell.
GM's international business unit, which includes the crucial Chinese market, saw earnings slip 2.8 percent to $557 million. Akerson emphasized, however, that he expects annual Chinese auto sales to hit 30 million vehicles by the end of the decade. GM also said it increased sales volume and market share in China in the second quarter.
GM officials said they are one year into a two-year transition to the redesigned Chevrolet Silverado and GMC Sierra. The company previously had not said when the new full-size trucks would launch next year.
Shares of GM initially fell and then rallied into positive territory before slipping lower again. In midday trading, they were off 42 cents, or 2 percent, at $19.24 on the New York Stock Exchange.
(Additional reporting by Maria Sheahan in Frankfurt; Editing by Gerald E. McCormick and Maureen Bavdek)
Updated Date: Aug 02, 2012 23:15 PM