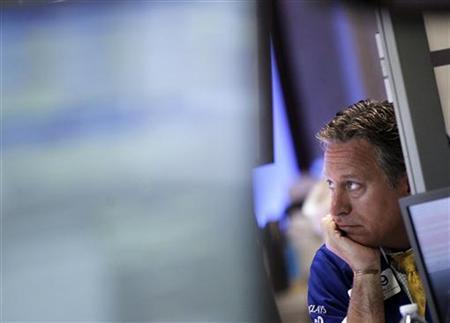 NEW YORK (Reuters) - Global stocks and the euro fell on Wednesday after weak data on euro zone manufacturing and U.S. private-sector hiring fueled concerns about a global economic slowdown.
The reports came a day after an index of U.S. factory activity posted its strongest growth rate in 10 months and sent the Dow Jones industrial average to its highest close in four years.
U.S. equities fell before cutting losses in midday trading, while Treasuries prices advanced as investors shed stocks and other riskier investments and sought safety in government debt.
Euro zone factories sank further into decline last month, with the downturn hitting Italy and Spain hard and appearing to take root among core members France and Germany.
Investor caution ahead of Friday's April U.S. payrolls report also grew after a report showed private employers added 119,000 jobs last month, well short of expectations.
"These aren't good numbers this morning, they are certainly on the low end of expectations. However, in the broader theme you can't look at these numbers alone, you can't isolate them from the broader picture, which is continuing expansion, continuing improvement in U.S. manufacturing," said Peter Kenny, managing director at Knight Capital in Jersey City, New Jersey.
The Dow Jones industrial average was down 25.58 points, or 0.19 percent, at 13,253.74. The Standard & Poor's 500 Index was down 4.29 points, or 0.31 percent, at 1,401.53. The Nasdaq Composite Index was up 6.52 points, or 0.21 percent, at 3,056.96.
The MSCI world equity index fell 0.3 percent to 328.22. European shares erased early gains, with the FTSEurofirst 300 ending down 0.4 percent.
The euro fell for a third straight session against the dollar and was last down 0.6 percent at $1.3158. A rush to safety by investors pushed yields on German two- and five-year yields to record lows of 0.072 percent and 0.559 percent respectively.
German Bund futures hit a record high of 141.69.
The ECB meets on Thursday, with pressure growing on the bank to use bond buying and other measures to shield weaker euro members from additional pain. Expectations are also growing that the ECB may soon cut borrowing costs, eroding the euro's interest rate advantage.
"The deterioration in the euro area data will increase the focus on tomorrow's ECB meeting as market participants focus on policymakers' outlooks and weigh the probability of a policy response," said Eric Theoret, currency strategist, at Scotia capital in Toronto.
Elections in Greece and France this weekend added to fears of rising political uncertainty in Europe, which could push the euro below $1.30 in coming weeks.
Against the yen, the dollar rose 0.1 percent to 80.16 yen.
Oil prices dipped as weak economic data dampened the demand outlook. Brent crude for June slipped $1.38 to $118.28 a barrel and U.S. crude for June was down 83 cents at $105.33.
Gold retreated toward $1,652 an ounce but remained within its recent ranges as the mixed signals on global growth kept investors sidelined.
Benchmark 10-year Treasury notes traded up 5/32 in price to yield 1.9277 percent.
(Additional reporting by Chuck Mikolajczak and Gertrude Chavez-Dreyfuss; Editing by James Dalgleish)
Updated Date: May 03, 2012 00:15 AM