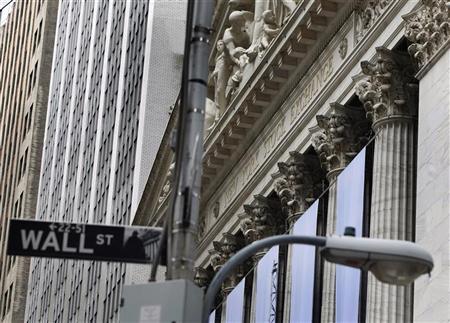 NEW YORK (Reuters) - Global stocks dropped 2 percent and the euro fell to a 3-week low against the dollar on Wednesday a day after U.S. central bank meeting minutes dented hopes for more economic stimulus and a Spanish debt auction drew weak results.
Gold prices hit their lowest since early January, while U.S. bonds rallied as losses in the stock market enhanced the bid for safe-haven U.S. government debt.
Comments from European Central Bank President Mario Draghi that the euro zone's economic outlook is subject to downside risks related to the debt crisis and commodity prices further weighed on the euro, as well as on gold.
Draghi's comments came in a news conference after the ECB announced it was holding interest rates at record lows, as widely expected.
The Federal Reserve's minutes from its March meeting, released Tuesday, suggested the appetite for a third dose of quantitative easing, so-called QE3, has decreased.
The news further underscored the United States' divergence from a Europe facing recession.
"The punch bowl is being taken away by the Fed and the ECB, and the markets don't like these punch bowls being taken away. But it's all part of getting back to normal. It's a sign that we don't need artificial stimulus, so I think the selloff is temporary," said Doug Cote, chief market strategist with ING Investment Management based in New York.
The MSCI all-country world equity index .MIWD00000PUS slid 2 percent, while the three major U.S. stock indexes were down more than 1 percent.
The FTSEurofirst 300 Index of top European shares .FTEU3 fell 2 percent to close at 1,050.99.
The Dow Jones industrial average .DJI was down 165.25 points, or 1.25 percent, at 13,034.30. The Standard & Poor's 500 Index .SPX was down 18.92 points, or 1.34 percent, at 1,394.46. The Nasdaq Composite Index .IXIC was down 60.23 points, or 1.93 percent, at 3,053.34.
All 10 S&P 500 sectors declined, with energy, financial and technology stocks leading the downturn.
Investors brushed aside data showing U.S. employers created 209,000 private-sector jobs in March, slightly above forecasts.
U.S. stock exchanges will be closed on Friday for the Easter holiday when the U.S. monthly employment report, among the most widely watched economic indicators, is due to be released.
The euro dropped 0.8 percent against the dollar to $1.3124. At the trough of $1.3105, it was the lowest since mid-March.
"The market focuses back on Europe after Spain's disappointing bond auction," said Camilla Sutton, chief currency strategist at Scotia Capital. "A key theme is how strict austerity and low growth can turn into a euro negative and vicious cycle."
Spain sold 2.6 billion euros of government bonds, toward the lower end of its target range and at higher yields than at previous auctions. Its borrowing costs had been expected to rise, given growing concerns about its public finances.
A T-bill sale in Portugal met with better demand than the auction in Madrid, though the shorter-term nature of the debt meant its wider market impact was muted.
Following those auctions, yields on Spanish benchmark 10-year debt rose, and Spanish 5-year credit default swaps extended their early rise after the auction, up around 460 basis points.
On Tuesday, Spain, which recently announced fresh budget cuts as it slides back into recession, said its debt level is on course to reach a 22-year high.
COMMODITIES EXTEND LOSSES, BONDS RISE
Brent and U.S. crude oil futures dropped, sharply extending declines after a U.S. government report showed crude inventories rose sharply in the United States last week.
U.S. crude dropped $2.66 to $101.35 a barrel. Brent crude slid $2.08 to $122.78.
Spot gold tumbled to $1,617.51 an ounce after touching a low of $1.612.30 an ounce, its lowest since January 10.
The benchmark 10-year U.S. Treasury note shot up 17/32 in price, with the yield at 2.2322 percent, compared with 2.31 percent on Tuesday.
(Additional reporting by Simon Jessop in London and Nick Olivari and Angela Moon in New York; Editing by Padraic Cassidy, Jan Paschal and James Dalgleish)
Updated Date: Apr 05, 2012 00:00 AM