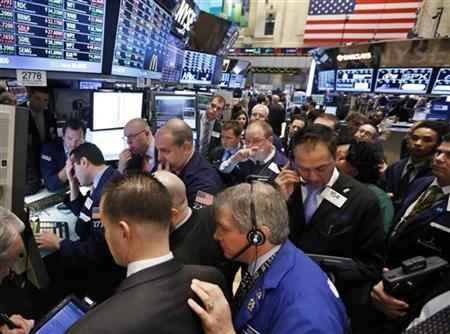 NEW YORK (Reuters) - World equity and oil prices rebounded on Friday after U.S. House Republican leaders said they would seek to break a budget impasse next week, while the yen was lower against the U.S. dollar ahead of potential asset purchases by the Bank of Japan.
Brent and U.S. crude futures rose in choppy trading on news that the House of Representatives will consider a bill to raise the U.S. debt ceiling enough to allow the country to pay its bills for another three months.
Stocks on Wall Street also pared losses on news of the new Republican strategy, though the Nasdaq remained under water.
Earlier, stocks had faltered on a survey that showed U.S. consumer sentiment at its lowest in over a year in January and a disappointing earnings outlook from chipmaker Intel (INTC.O).
"After feeling some pressure from the weak consumer sentiment data, crude popped back a bit on the possibility of movement on the debt ceiling," said Phil Flynn, an analyst at Price Futures Group in Chicago.
The Thomson Reuters/University of Michigan's preliminary reading on the overall index on consumer sentiment came in at 71.3, down from 72.9 the month before. The index was at its lowest since December 2011.
Omer Esiner, a chief market analyst at Commonwealth Foreign Exchange in Washington said the consumer confidence numbers would be closely scrutinized, given the still-uncertain impact of higher payroll taxes on the consumer.
"This is a big miss and could mark the beginning of a downward trend in sentiment and in spending," Esiner said.
Shares of Intel Corp (INTC.O) slumped 6.9 percent to $21.11 a day after it forecast quarterly revenue below analysts' estimates and announced plans for increased capital spending amid slow demand for personal computers.
The Dow Jones industrial average was up 34.06 points, or 0.25 percent, at 13,630.08. The Standard & Poor's 500 Index was up 3.05 points, or 0.21 percent, at 1,483.99. The Nasdaq Composite Index was down 4.17 points, or 0.13 percent, at 3,131.83.
Americans' anxiety about the economy undercut optimism from upbeat U.S. housing data earlier this week, reviving some safe-haven bids for government debt.
The U.S. benchmark 10-year Treasury note ticked up 10/32 in price to yield 1.8469 percent.
Disappointing U.K. economic data helped pushed European shares downward. The FTSEurofirst 300 index of top shares closed 0.16 percent lower at 1,163.64.
China reported that its economy grew at a slightly faster-than-expected 7.9 percent in the fourth quarter of 2012, a clear sign it has avoided a sharp economic slowdown, though the annual growth rate was its weakest in 13 years.
The China data came on top of strong U.S. labor and housing market reports on Thursday, providing fresh impetus to a broad rally in equities, precious metals and commodities since the start of the year.
MSCI's index of leading world shares hit its highest level since May 2011 at 351.70, but later gave back some gains to trade up at 351.67.
Spot gold retreated $2.26 to $1,685.00 an ounce.
Oil supply disruption fears were reinforced by the Islamic militant attack and hostage-taking at a gas plant in Algeria, a member of the Organization of Petroleum Exporting Countries.
Lack of progress from another round of talks between the United Nations' nuclear agency and Iran about Tehran's nuclear program also pushed prices higher.
Brent crude rose 79 cents to settle at $111.89 barrel, while U.S. oil settled 7 cents higher $95.56 a barrel.
Sources familiar with the BOJ's thinking told Reuters the central bank, under relentless pressure from Japan's Prime Minister Shinzo Abe, will consider making an open-ended commitment to buy assets until 2 percent inflation is in sight.
"This is a big deal," said Jens Nordvig, global head of currency strategy at Nomura Securities in New York.
"But as always from a trading perspective, it matters greatly what is already priced," he added.
The euro last traded 0.23 percent lower against the yen at 119.96 yen, down from 120.70 earlier - its highest since May 2011.
The euro was also down against the dollar, falling 0.43 percent on the day to $1.3317.
(Editing by Bernadette Baum, Gary Crosse and Nick Zieminski)
Updated Date: Jan 19, 2013 02:45 AM