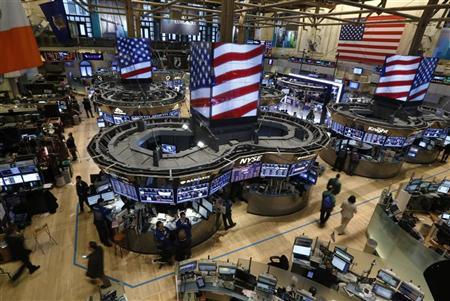 NEW YORK (Reuters) - Global shares fell on Tuesday, with U.S. investors cautious ahead of an earnings season expected to show sluggish growth in corporate profits.
The dollar paused a sharp rally against the yen that has boosted it almost 12 percent in less than two months. The rise has come as expectations grow that Japan's new government will push the central bank to ease policy aggressively in the next few months.
The dollar was last down 0.7 percent at 87.18 yen, well off a 2-1/2-year high hit last Friday.
Profits in the U.S. fourth quarter are seen above the previous quarter's lackluster results, but analysts' estimates are down sharply from where they were in October. Quarterly earnings are expected to grow by 2.8 percent, according to Thomson Reuters data.
Alcoa Inc (AA.N) reports results after the market closes on Tuesday, marking the unofficial start to the season as the first Dow component to report.
Early reports have suggested some signs of improvement. Monsanto Co (MON.N) reported strong first-quarter results and raised its full-year outlook, sending its shares up 2.8 percent to $98.63.
Sears Holding Corp (SHLD.O) reported sales for the holiday season that were not as weak as many had feared, but the stock sank as the company's chief executive stepped down unexpectedly.
If earnings growth appears to be "less bad" than expected, that would fuel a near-term uptick in the market, according to Eric Wiegand, senior portfolio manager at U.S. Bank Wealth Management in New York. "There's still ample areas for concern," he added, citing policy worries in Washington and uneven economic activity.
The Dow Jones industrial average was down 75.11 points, or 0.56 percent, at 13,309.18. The Standard & Poor's 500 Index was down 8.53 points, or 0.58 percent, at 1,453.36. The Nasdaq Composite Index was down 19.68 points, or 0.63 percent, at 3,079.14.
Global shares measured by MSCI's ACWI price index fell 0.5 percent.
Europe ended 0.1 percent lower as data showed the euro zone economy may be stabilizing, though at a weak level. The euro held steady while commodity markets were largely subdued as investors sat on recent gains.
Euro zone business confidence improved again in December, but unemployment reached a record and households held back from spending in the run-up to Christmas, suggesting a recovery from recession will be slow. German industrial orders also fell more than forecast due to a sharp drop in demand from abroad.
"Things are bad. It is still consistent with recession, but at least they have stopped deteriorating," said Deutsche Bank economist Gilles Moec.
The euro was steady at just over $1.3120.
STEADY BOND MARKETS
Bond markets smoothly digested the first debt sales of the year by the Netherlands and Austria, as well as Spain's announcement that it plans to borrow 121.3 billion euros this year, 7.6 percent more than in 2012.
Madrid is expected to turn to official lenders for a bailout in 2013, although a European Central Bank promise to preserve the euro has significantly reduced the pressure.
German government bond prices also edged higher as investors dipped a toe back into the market for low-yielding but secure assets as a steep sell-off last week made valuations more attractive.
The German bund future was up 32 ticks at 143.38, climbing for a second day after a small rise on Monday and moving in line with U.S. Treasuries. The rebound follows a three-point sell-off last week when an easing of U.S. fiscal concerns caused investors to pile into riskier assets.
The benchmark 10-year U.S. Treasury note was up 8/32, the yield at 1.8709 percent.
In commodity and metals markets, Brent crude oil rose 0.4 percent to $111.88 per barrel while U.S. light crude was down 0.2 percent at $92.99. Copper rose 0.1 percent and gold edged back above $1,655 an ounce before data on Thursday from China and the ECB's monthly meeting.
"The market is underpinned by expectations that a cyclical rebounding out of China will be positive for industrial metals, and there is more positive sentiment now in the market," said Robin Bhar, analyst at Societe Generale.
(Additional reporting by Rodrigo Campos; Editing by Dan Grebler)
Updated Date: Jan 09, 2013 00:15 AM