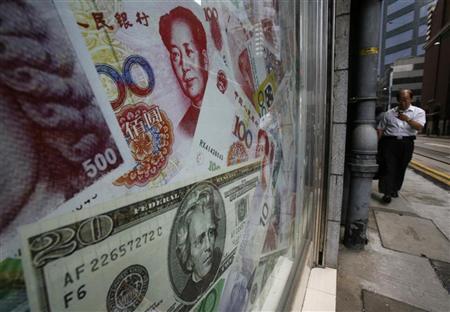 NEW YORK (Reuters) - Cheap financing, strong equity markets and growing confidence in the economy has led more U.S. companies to pursue large acquisitions in the first quarter, making up for flagging activity in Europe and Asia and sending the worth of global mergers and acquisitions slightly higher.
U.S. deal activity has surged 62 percent during the quarter, bolstered by a series of deals valued at over $5 billion, including the $23.2 billion takeover of ketchup maker H.J. Heinz Co (HNZ.N) by Warren Buffett's Berkshire Hathaway (BRKa.N) and Brazilian private equity firm 3G Capital.
Global deal volume rose 6 percent to $430.4 billion through March 19, even as deal volume in Europe and the Asia-Pacific region fell 31 percent and 10 percent, respectively, according to Thomson Reuters data.
"Many companies in the United States have turned the corner on their own financial strength and performance where they see more upside than downside in their business," said Chris Ventresca, head of mergers and acquisitions for North America at JPMorgan Chase & Co (JPM.N).
"U.S. companies have a head start over some companies in Europe, who are either still at a bottom or close to a bottom and therefore still focused inward versus externally," Ventresca said.
JPMorgan Chase was the top M&A adviser worldwide, with $130 billion of deals over the period. It beat out Goldman Sachs Group (GS.N), which advised on $117 billion of deals.
U.S. deal volume surged to $207.1 billion, from $127.5 billion in the same period last year. Dealmakers said U.S. companies have been helped by cheap and available financing, flush balance sheets and improved equities markets.
"Generally speaking, CEOs are much more confident today than six months ago," said Jack MacDonald, co-head of Americas M&A at Bank of America Merrill Lynch (BAC.N).
"A lot of the overhang that we saw in the third and fourth quarters around the fiscal cliff and the U.S. election has largely dissipated. Looking ahead, there's potentially less uncertainty and volatility with less downside risk."
Transactions with a value greater than $5 billion were up more than 50 percent to $110 billion. Of the eight transactions in the first quarter that were of this size, seven involved an American buyer or seller.
"When we see four deals announced in quick succession greater than $10 billion, inevitably companies take note, and there is a sense of, if my neighbor has a new car it's fine for me to go to the dealership and see what they've got," said Peter Tague, co-head of global M&A at Citigroup Inc
For a graphics package on first quarter deals, click link.reuters.com/kyb46q
EUROPEAN TRAVAILS
Tague noted, however, that this handful of large U.S. transactions "have masked what is otherwise a pretty slow start to the year."
"There are still plenty of reasons for caution in the boardroom, particularly as it relates to the macro picture - political gridlock in the United States, a slowdown in China, or problems in Europe," he said.
The euro zone economy is in the midst of a deep slowdown, with little signs of a recovery, according to data released on Thursday.
There were around $91.4 billion worth of deals in Europe through March 19, down from $131.7 billion in the same period last year.
"There are a number of factors that have been limiting deal flow in Europe. There is obviously economic uncertainty but more than that it's a reluctance on the part of sellers to adjust market prices they're willing to sell for," said Alain Renaud, global head of mergers & acquisitions at HSBC (HSBA.L).
There are some bright spots, some dealmakers say. Hernan Cristerna, head of M&A for Europe, the Middle East and Africa at JPMorgan, said that he has seen signs that more CEOs in the region increasingly want to discuss larger deals.
He also said that some companies could soon look for cheap deals in the flagging economies of Southern Europe.
"Countries in Northern European economies have performed better than Southern Europe," Cristerna said. "This leads to opportunities in the valuations of relatively underperforming regions, where in specific instances the perceived risks can be exaggerated and often the operations of the business extend into stronger economies."
Dealmakers also say the difficult environment in Europe can help merger volumes this year - by prodding companies to sell assets to improve their balance sheets.
"We anticipate a progressive recovery in the rhythm of corporate divestitures in Europe," said Paul Staples, UK head of corporate finance at BNP Paribas (BNPP.PA). "We believe that rationalization of asset portfolios together with increasing pressure to demonstrate efficient allocation of capital will become increasingly visible."
(Additional reporting by Anjuli Davies in London, Soyoung Kim and Greg Roumeliotis in New York; Editing by Steve Orlofsky)
Updated Date: Mar 23, 2013 05:45 AM