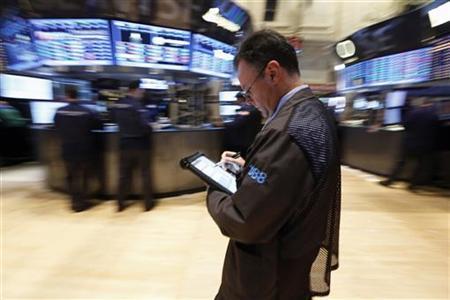 NEW YORK (Reuters) - Global equities climbed on Wednesday after aluminum maker Alcoa (AA.N) opened the U.S. earnings season with a brighter outlook for global demand, while the dollar rose against the yen on expectations of more easing from the Bank of Japan this month.
However, investors were wary before policy meetings of the European and British central banks on Thursday, when Spain also tests the market's appetite for peripheral euro zone debt.
Alcoa (AA.N), the largest aluminum producer in the United States, said late on Tuesday it is cautiously optimistic about demand for the metal in 2013, buoyed by aerospace and construction buyers.
Hints in Alcoa's results of a Chinese recovery were also significant, said Andrew Wilkinson, chief economic strategist at Miller Tabak & Co. in New York.
"Such anecdotal signs that the belly of the Chinese dragon is starting to rumble again will not go unnoticed by investors around the world," he said.
U.S. stock indexes rose in early trading, lifted by the Alcoa results. The Dow Jones industrial average .DJI gained 74.08 points, or 0.56 percent, at 13,402.93. The Standard & Poor's 500 Index .SPX was up 5.49 points, or 0.38 percent, at 1,462.64. The Nasdaq Composite Index .IXIC was up 14.66 points, or 0.47 percent, at 3,106.47.
Alcoa's results also buoyed Asian stocks and pushed Europe's FTSE Eurofirst 300 index .FTEU3 up 0.63 percent, with the MSCI world equity index .MIWD00000PUS up 0.36 percent. London's FTSE 100 .FTSE hit its highest point since May 2008 after rising 1 percent.
Analysts expect better earnings in the fourth quarter over the third, but lowered guidances are keeping outlooks modest.
"Clearly no one is expecting a stellar earnings season. With the number of companies that lowered guidance over the last few weeks, I think there's some concern that we could see companies disappoint," said Kate Warne, investment strategist at Edward Jones in St. Louis.
"However, based on the fact that many companies have lowered guidance, that means they've put the bar so low they could crawl over it, and I would expect what we'll see is some relief as earnings come in."
Worries over Washington budget battles also remain a constraint. A similar fight over the U.S. debt ceiling in 2011 caused the country to lose its sterling AAA credit rating, rattling world markets.
Prices for U.S. government debt were near flat ahead of an auction of $21 billion in 10-year notes. The benchmark 10-year U.S. Treasury note was down 2/32, the yield at 1.8692 percent.
Investors were pushing to retake some of last week's sharp losses after Federal Reserve minutes hinted at growing unease within the bank about its asset purchasing program.
German government bond prices also gained following a successful auction of new five-year debt, continuing a string of strong European sales this week with Austria, the Netherlands and Ireland all tapping the market.
But a test for the market looms on Thursday when Spain and Italy hold their first debt sales of 2013. The Spanish auction could also offer clues on the timing of a much-anticipated request by the government for international financial aid.
Surging demand for high-grade corporate debt in the United States has put the new issue market on course for a record week. Thomson Reuters IFR said new issue volume totaled a massive $33 billion by the end of Tuesday, and only $7.6 billion more was needed to match the previous weekly record of $40.6 billion.
JAPAN EASING
The dollar rallied against the yen, moving toward a 2-1/2 year high hit last week on expectations of bolder monetary easing from the Bank of Japan at its next meeting later this month.
The U.S. currency was up 0.86 percent at 87.78 yen, gaining 0.29 percent against a basket of currencies .DXY.
"The outlook for additional easing is keeping a lid on the yen to the upside," said Omer Esiner, chief market analyst at Commonwealth Foreign Exchange in Washington.
Sources familiar with the BOJ's thinking told Reuters the central bank was likely to adopt a 2 percent inflation target at the meeting, double its current goal, and issue a statement with the government promising to pursue bold monetary easing steps.
The euro was slightly lower at $1.305, easing after German industrial output rose less than expected in November.
The data was unlikely to change the ECB's thinking, with most analysts expecting interest rates to be kept on hold on Thursday, though some believe rates will be cut later this year.
Brent crude oil was below $112 per barrel on increasing supply from the United States. Front-month Brent futures slipped 0.57 percent to $111.30.
U.S. commercial crude oil stockpiles were expected to have risen last week as refiners on the Gulf Coast resumed imports after slowing shipments at the end of the year for tax purposes, according to a Reuters poll.
(Additional reporting by Leah Schnurr in New York and Richard Hubbard in London; Editing by Kenneth Barry and Dan Grebler)
Updated Date: Jan 10, 2013 01:00 AM