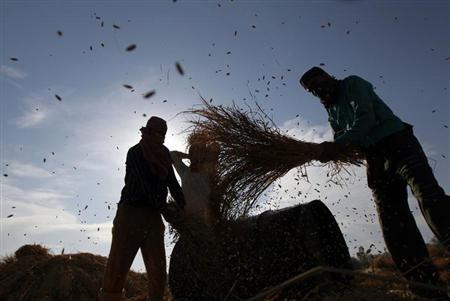 BANGALORE (Reuters) - India's annual economic growth is expected to have slowed to 5.0 percent in the three months to December due partly to a struggling farm sector, having already struck a near three-year low of 5.3 percent in the previous quarter, according to a Reuters poll.
Forecasts of growth in gross domestic product for the October-December quarter ranged from 4.5 percent to 5.6 percent in the poll of 36 economists.
The latest GDP data is due to be released at 12 noon on Thursday, shortly before Finance Minister P. Chidambaram announces the 2013/14 budget.
"The biggest factor this quarter will be a slow pace of growth in agricultural output from the impact of the less-than-normal monsoon in the summer months," said Yuvika Oberoi, economist at Yes Bank.
"In addition, the industrial production numbers showed a tepid pace of improvement and the slowdown in the services continued. We also saw government spending has been much lower than the norm in a bid to rein in the fiscal deficit."
Once considered a rising star in Asia, the Indian economy has lost its shine in recent years. Preliminary estimates released earlier this month showed growth dwindled to an annual five percent rate in the current fiscal year to March.
That would be the slowest growth rate in Asia's third largest economy in a decade and if confirmed, underscores the need for further policy reforms and monetary easing to spur investments, say economists.
The Reserve Bank of India has said that halting the loss of momentum in the economy is a priority for policymakers, as the country needs higher growth to provide jobs for its burgeoning population, and stronger capital inflows and export earnings to reduce its external deficits.
A separate Reuters poll taken last week showed Chidambaram is expected to present an austere budget to bring the country's wide current account deficit under control and lure foreign investment.
But, while compelled to make spending cuts needed to bring the fiscal deficit under control and stave off a potential downgrade in India's sovereign debt credit rating to junk bond status, there are also expectations that Chidambaram will find ways to encourage investment and growth.
Spending cuts, however, will inevitably place a drag on the economy. Chidambaram cut public expenditure in the current fiscal year to March by some nine percent from the original target, and growth will have suffered during the October-December quarter due to reductions in spending on welfare, defence and road projects.
"If there are going to be any austerity measures or fiscal consolidation, that will be negative for growth in the short term. But, I think the government is not going to take a very skewed view," said Radhika Rao, economist at DBS. "They cannot look at growth alone at this point."
After it cut its policy interest rate for the first time in nine months January, the RBI also warned any monetary easing would depend on how quickly the high current account deficit and inflation could be reined in.
The RBI cut its repo rate by 25 basis points to 7.75 percent and revised its GDP growth forecast for to 5.5 percent from 5.8 percent for the fiscal year ending in March.
(Additional reporting by Ashrith Doddi; Polling by Namrata Anchan; Editing by Simon Cameron-Moore)
Updated Date: Feb 27, 2013 00:15 AM