Chennai: With deficient monsoon and the Cauvery water sharing dispute with Karnataka affecting agriculture in the state, the Tamil Nadu government on Friday said it would announce a "suitable" relief package to Cauvery Delta farmers.
Tamil Nadu Governor K Rosaiah told the state Assembly that the state is likely to suffer severely in achieving its food production targets despite the government stating that it would bear the farmers' share of crop insurance premium in the Cauvery delta.
"The High-level committee, constituted by the government to assess the loss and recommend relief measures, has submitted its report and the government will announce suitable relief package shortly," he said in his address to the first session of the year.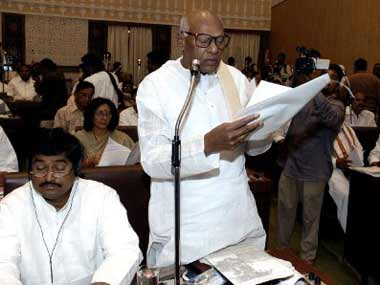 On the power crisis, which the Governor described as a 'legacy' left by the previous DMK regime, the government said consumption had gone up by 30 million units between October 2012 and January 2013 by 210 million units per day and various steps were being taken to address the situation.
The Stage III 600 MW Mettur Thermal Power Plant has already commenced trial production while the 500 MW first unit of the joint venture between TANGEDCO and NTPC at Vallur has been commissioned.
The second and third units of this JV totalling 1000 MW are expected to be commissioned in March and October 2013.
Load shedding has come down "considerably" due to efficient operation of power stations, besides procuring
electricity from Power Exchanges and other sources, he said.
On the lines of the rain water harvesting initiative, the government would make generation and use of Solar Energy a people's movement and achieve targeted capacity of 3000 MW, he said while referring to the Solar Energy Policy.
On the Centre's Cash Transfer scheme, the Governor noted that it is not a "panacea" for all the ills in the present welfare programmes.
The Tamil Nadu government supported cash transfer through banks only for some schemes like social security pensions and scholarships to students, but opposed a similar approach for Universal PDS and fertilizer subsidy, he said.
He also reiterated the Jayalalithaa government's opposition to the Centre's FDI in multi-brand retail.
The government also announced increasing the annual plan allocation for the year 2013-14 to Rs 37,000 crore from Rs 28,000 crore fixed during the current year.
The government will soon release the second volume of 'Vision 2023' document, detailing the entire list of projects to be launched to make the state Numero Uno, he said.
Holding that fishermen have been victims of 'repeated harassment' and 'murderous attacks' by the Sri Lankan Navy, the Governor urged the Centre to impress upon Colombo to "exercise restraint and refrain from making unprovoked attacks on Tamil Nadu's fishermen, who are also citizens of India."
PTI
Updated Date: Feb 01, 2013 17:27 PM