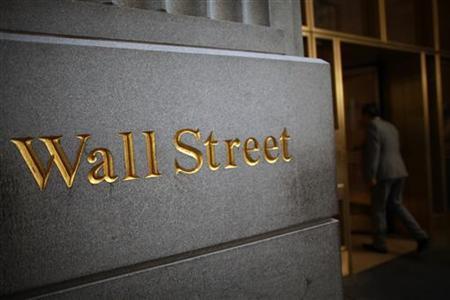 REUTERS - A calm summer has allowed many on Wall Street to take vacations this year, but don't count on the tranquility lasting into the fall.
Massive central bank intervention has kept a lid on the market turmoil of the past year, and helped major U.S. stock indices advance to multi-year highs even as the European debt crisis remains a threat, and demand slowed in major world economies.
The S&P 500 closed at its highest level since December 2007 on Thursday after the U.S. Federal Reserve said it would start another round of monetary stimulus to boost the economy. As a result, risk perceptions reflected by Wall Street's so-called fear gauge, the CBOE Volatility Index fell sharply. The VIX dropped 11 percent to 14.05.
The VIX had hit a multi-year low in August and remains below 20, consistent with expectations for relative calm in markets, compared with the 48 level it hit in August 2011.
But market strategists say more volatile periods could lie ahead, pointing to macro risks surrounding the uncertainty of the three-year old European debt crisis, the U.S. presidential election in November, and tensions between Israel and Iran and the Middle East in general.
To top it all off, the looming "fiscal cliff" in the United States - a combination of tax increases and cuts in government spending that could send the U.S. economy into recession - also threatens markets.
"At the end of the day I don't think we are adequately pricing in risk right now," said Michael McCarty, managing partner of Differential Research, an institutional research firm in Austin, Texas.
In the options market, heading into the Fed meeting heavy volume in VIX contracts suggested some investors were looking to protect their portfolios against a potential pullback in stocks and a spike up in volatility in the weeks and months ahead.
Options volume on the VIX hit a daily record on Tuesday, as more than 1.2 million contracts changed hands, the highest level since August 2011, according to the Chicago Board Options Exchange. That exceeded the previous peak of 1.17 million contracts traded on August 5, 2011 - the day Standard & Poor's lowered the U.S. triple-A credit rating to double-A-plus.
The turnover included more than 827,000 VIX call options traded on Tuesday.
"As volume in VIX options increases, it is a signal that more people are using the contracts as a hedge to their long equity exposure," said Ben Londergan, co-chief executive officer at Group One Trading in Chicago.
FISCAL THREATS
Last summer, Wall Street suffered through a sharp selloff throughout August as Congress and the Obama Administration were unable to agree to a deal to raise the U.S. debt borrowing limit until the last minute.
This week, Moody's Investors Service again warned that a downgrade of the U.S.'s triple-A rating is possible if budget negotiations do not lead to a meaningful decline in the deficit.
A package of tax hikes and automatic spending cuts are scheduled to take effect i n December u nless the Obama Administration and Congress make a deal to maintain certain tax and spending cuts and let others expire.
Any deal talks will be shaped by November's U.S. presidential election.
"The reason this will outweigh other macro risks such as the fiscal cliff and the European crisis, is that the elected president and his policies can sway the economy. Be it real or perceived, many will have that as their number one factor," said TD Ameritrade chief derivatives strategist J.J. Kinahan.
VIX BELOW LONG-TERM MEAN
In mid-August, the VIX fell to a five-year low of 13.45 as realized volatility for the S&P 500, which tracks the past daily moves of the S&P 500, also dropped to very low levels. The VIX is still below its long-term mean of 20.50.
The VIX tracks projected near-term stock market volatility embedded in a strip of S&P 500 Index options and generally moves inversely to the S&P benchmark. It has been below the 20 threshold for most of the last three months as stocks have advanced.
MKM Partners derivatives strategist Jim Strugger believes the volatility cycle may have reached a critical point last week with a number of options market metrics suggesting that the period of time where the VIX has remained below the 20 level is in its late stage.
Strugger said this occurred at the same time that the S&P 500 broke above its 2012 high, suggesting U.S. equities will have a strong move up over the next four to six weeks.
At some point in mid- to late October, Strugger expects the natural end of the volatility cycle to converge with the seasonal peak in VIX, driving it sharply above the 20 level.
If a selloff becomes more likely then, investors now have several choices to protect their positions. McCarty suggests selling riskier stocks and deleveraging a portfolio, and adding a volatility asset such as VIX futures and options "to dampen portfolio volatility."
Equity and quantitative strategists at Bank of America Merrill Lynch said in a report to clients they saw limited potential for equity markets to rise further, as the S&P 500 has already gained nearly 16 percent on the year, nearing their 1,450 target for 2012.
The firm also pointed to the strong historical relationship between the slope of the yield curve and the VIX. Moves in the yield curve - the gap between long- and short-term interest rates - tend to lead moves in the VIX by about two years. The curve has flattened over the last 18 months, suggesting volatility may increase in coming months.
Generally, when the VIX rises, BofA wrote that high-quality stocks tend to outperform, as do defensive stocks such as healthcare and consumer staples. More volatile sectors like financials and consumer discretionary shares tend to do worse.
"Right now people are parking their money in defensive names, and I don't think that's played out," said Mike Shea, a managing partner and trader at Direct Access Partners LLC in New York.
(Reporting By Doris Frankel; additional reporting by Ryan Vlastelica; Editing by Bernard Orr)
Updated Date: Sep 14, 2012 04:15 AM