Facebook revenue smashes expectations as mobile ad sales surge | Reuters
Facebook Inc's ( FB.O ) quarterly revenue rose more than 50 percent, handily beating Wall Street expectations as its wildly popular mobile app and a push into live video lured new advertisers and encouraged existing ones to boost spending. Facebook also announced a proposal to create a new class of non-voting shares, which would be given as a dividend to existing shareholders
Facebook Inc's (FB.O) quarterly revenue rose more than 50 percent, handily beating Wall Street expectations as its wildly popular mobile app and a push into live video lured new advertisers and encouraged existing ones to boost spending.
Facebook also announced a proposal to create a new class of non-voting shares, which would be given as a dividend to existing shareholders.
The company's shares rose 9.5 percent in after-hours trading on Wednesday.
The dividend of non-voting shares would allow Chief Executive Mark Zuckerberg, who plans to give away the majority of his wealth, to sell part of his stake in Facebook without giving up any of his voting control. That way, Facebook said, Zuckerberg could remain in an "active leadership role".
Mobile ad revenue accounted for about 82 percent of total ad revenue in the first quarter ended March 31, compared with about 73 percent a year earlier.
Facebook said it had 1.65 billion monthly active users as of March 31, up from 1.44 billion a year earlier.
Competition in the mobile video market has been growing, especially between Facebook, Snapchat and YouTube. Facebook has been rolling out new features to encourage advertisers to experiment further with video and migrate to the platform from television advertising.
The results showed success attracting advertisers and the company was able to expand its operating profit margin to 55 percent from 52 percent a year earlier, in the process.
"The company consistently 'warns' about higher spending, but they consistently manage their spending to deliver earnings upside. They're an impressive company, and they leave very little room for criticism," said Wedbush Securities analyst Michael Pachter, who called the operating margin a good surprise.
The results come after disappointments for investors from several major Silicon Valley firms.
"After Intel and IBM last week, and then Twitter and Apple yesterday, this is by far the best number I've seen in technology," said Daniel Morgan, senior portfolio manager at Synovus Trust Company which owns about $40 million worth of Facebook shares, commenting specifically about Facebook ad revenue.
The company's net income attributable to common shareholders rose to $1.51 billion, or 52 cents per share, in the first quarter from $509 million, or 18 cents per share, a year earlier.
Excluding items, the company earned 77 cents per share, beating Wall Street's 62-cent consensus.
Total revenue rose to $5.38 billion from $3.54 billion, with ad revenue increasing 56.8 percent to $5.20 billion.
Analysts on average had expected a profit of 62 cents per share and revenue of $5.26 billion.
If the stock proposal is approved, the company intends to issue two shares of Class C capital stock as a one-time stock dividend for each share of Class A and Class B common stock.
Zuckerberg and his wife, Priscilla Chan, announced last year that they would give away 99 percent of their Facebook shares to fund charitable endeavours.
(Reporting by Anya George Tharakan in Bengaluru; Editing by Bernard Orr)
This story has not been edited by Firstpost staff and is generated by auto-feed.
News & Analysis
According to Facebook, parents can help by repeatedly talking to their teens about the difference between appearance and reality.
World
Their official meeting or reunion took place on Monday (13 September) in Texas, but the two had earlier met at the border last week. They met each other after communicating on social media.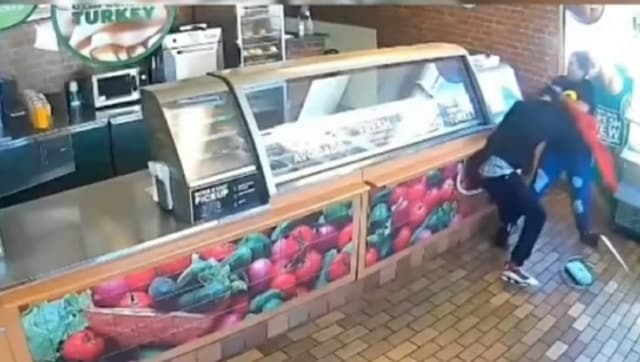 World
The video, captured on 5 September, shows Sotelo fighting off an armed robber, hitting him repeatedly with his own gun.