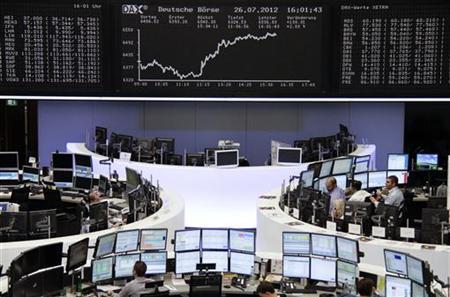 NEW YORK (Reuters) - European Central Bank President Mario Draghi's comments that the bank would do whatever was necessary to preserve the euro zone triggered a rally in the euro on Thursday and pushed global stocks and commodities higher.
At the same time Spanish bonds with 10-year yields fell to 7.0 percent after touching 7.5 percent, a threshold widely viewed as unsustainable for a government to fund itself.
Draghi's pledge to act within the ECB's mandate to protect the euro zone came as concerns grew that Greece would need yet another bailout and Spain was close to asking for its own rescue, which the euro zone could ill afford.
Speculation had been rising that the ECB, which holds a policy meeting next week, was considering new measures to tackle the euro zone's debt crisis as Spain and Italy saw their borrowing costs rise sharply amid growing evidence of an economic slowdown in Europe.
"The overarching concern over the last week or so has been that the euro zone is slowly melting into the Mediterranean," said Art Hogan, managing director of Lazard Capital Markets in New York. "To have Draghi come out and say, 'listen we are keeping this together' ... is going to add support to the market that is otherwise not there.
"Remember, though, that the ECB can't do this alone; he's going to have to have support from Germany and we'll see if that's forthcoming," said Hogan.
Hopes that the Federal Reserve will boost efforts to stimulate the U.S. economy, even as early as next week when its policy-setting committee meets, gave further support to Wall Street. Top Fed officials recently spelled out what measures they might take to boost growth and hiring.
The Dow Jones industrial average .DJI rose 249.07 points, or 1.96 percent, to 12,925.12. The S&P 500 Index .SPX gained 22.90 points, or 1.71 percent, to 1,360.79. The Nasdaq Composite .IXIC added 48.38 points, or 1.70 percent, to 2,902.62.
The FTSEurofirst was up 2.3 percent, its largest daily gain in a month, and the MSCI world equity index gained 2.1 percent after falling four sessions in a row.
The euro edged above $1.23, also aided by data showing a drop in U.S. pending home sales. Separate data earlier showed U.S. applications for first-time unemployment insurance fell last week to near a four-year low.
The euro was last up 1.2 percent at $1.2303 after hitting its lowest in two years at $1.2040 on Tuesday.
"In a heavily biased market, it only takes a little bit of news of the opposite sentiment to provoke quick moves," said Christopher Vecchio, currency analyst at DailyFX in reference to Draghi's comments.
Prices for safe-haven 10-year German bonds fell, as well as for U.S. benchmark Treasuries. The 10-year U.S. Treasury note was down 8/32, with the yield at 1.4226 percent.
BOND BUYING REDUX?
Analysts said Draghi's comments could be a reference to plans to restart the ECB's bond buying scheme, known as the Securities Markets Programme (SMP), which has not been used for months but still exists.
European Commission President Jose Manuel Barroso is due to hold talks with Greek Premier Antonis Samaras in Athens later, as a group of international lenders try to decide whether to keep releasing funds from a 130 billion euro bailout package.
COMMODITIES RALLY
Brent crude oil prices rebounded to over $105 a barrel after Draghi's pledge to defend the euro zone. Other commodities also saw big gains.
Brent was up 1.3 percent at $105.68 a barrel and U.S. crude was up 1.5 percent at $90.31 a barrel.
Copper prices jumped 1.1 percent. (Reporting by Rodrigo Campos Additional reporting by Edward Krudy and Nick Olivari; Editing by Kenneth Barry)
Updated Date: Jul 26, 2012 23:00 PM