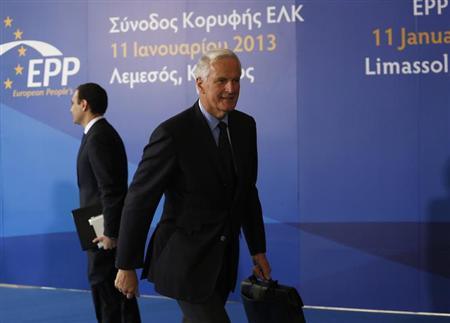 LONDON (Reuters) - Banks may be forced to stay on the panels that set benchmark interest rates such as Euribor to ensure their validity, under a draft EU law to be proposed later this year in response to a rate-rigging scandal.
More than a dozen banks are being investigated by regulators over the manipulation of Euribor and Libor, inter-bank lending rates used to price trillions of dollars worth of loans.
This week Royal Bank of Scotland (RBS.L) became the third bank to be fined for rigging rates.
"The (European) Commission will propose further legislation on benchmarks in the second quarter of 2013 in order to further clarify the framework under which benchmarks should operate," EU financial services chief Michel Barnier said on Friday.
"Any banks considering withdrawing from the contributing panels should therefore take into account that they may be required to rejoin the panels," Barnier said.
The rate-rigging scandal and uncertainty over how benchmarks will be directly regulated has led five banks - BayernLB, Rabobank, Raiffeisen, DekaBank and Citi - to pull out of the panel that helps set Euribor, reducing it to 39 members.
Regulators fear smaller panels of contributors make benchmark lending rates less viable and easier to manipulate.
The European Banking Federation (EBF), which runs Euribor, told the European Commission in a submission published on Friday that making contributions compulsory might be a solution but that incentive measures would work better.
The industry body added in the submission that Euribor should be run by an independent, non-profit driven structure under public supervision, a step Britain is already taking with the similar London-based benchmark rate, Libor.
The EBF said in a press statement on Friday that consideration by Brussels of a legal obligation for banks to participate in Euribor was "a sensible precautionary measure against which there can be no objection".
German regulator BaFin said in its submission that mandatory reporting could be useful but that a threshold should be considered to "avoid excessive burdens on minor submitters".
Italian bank UniCredit (CRDI.MI) said mandatory reporting would improve the reliability and accuracy of Euribor but smaller banks may be hit with extra operational burdens and costs.
BARNIER'S LIST
The European Central Bank said: "For such rates to remain representative, it is essential that there is an appropriate level of bank participation in the respective panels.
"In the light of these initiatives, the Eurosystem strongly encourages banks to remain in, or join, the Euribor panel to prevent potential disruptions to the functioning of the financial markets while the regulatory framework is being refined," the central bank said.
Barnier said he had already asked two watchdogs - the European Banking Authority and the European Securities and Markets Authority - to identify banks "which should be subject to a mandatory participation in benchmark setting".
The watchdogs are to hold a joint hearing in Paris next Wednesday on an 11-point plan they will implement by July to introduce more checks on submissions from banks and the use of actual market transactions where possible.
Currently, benchmark interest rates are based on rates at which banks say they think they can borrow from another bank.
The EU has already taken steps to make the manipulation of any benchmark rate a criminal offence as amendments to the bloc's market abuse rules are in the final stages of approval.
The Commission is also investigating whether the rigging of benchmarks has breached the bloc's antitrust rules that prohibit cartels.
Britain has also been looking at making it mandatory for banks to submit quotes for compiling Libor. (Editing by Mark Potter and Jane Baird)
Updated Date: Feb 09, 2013 01:15 AM