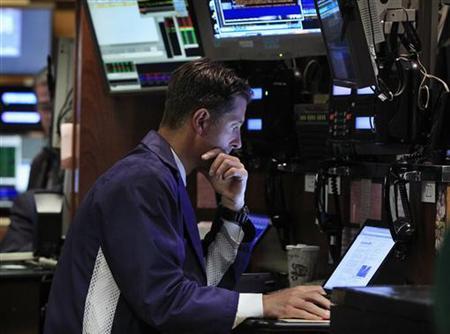 NEW YORK (Reuters) - A rush of unusually high volume ripped through dozens of stocks on the New York Stock Exchange on Wednesday due to a technology error at market maker Knight Capital, the latest in a series of high-profile mishaps that have damaged investor confidence in public markets.
Heavy computer-based trading erupted at the open, causing a trading halt in a handful of New York Stock Exchange-listed shares due to excessive volatility and prompting the NYSE to review trades in 140 different issues.
"This morning, a technology issue occurred in Knight's market-making unit related to the routing of shares of approximately 150 stocks to the NYSE," Knight Capital (KCG.N), one of the largest U.S. market makers, said in a statement.
Knight said the problem prompted it to tell clients to send orders to other firms, but officials were not available for further comment. Shares of the company's stock plunged 21.4 percent to $8.13, and at one point hit a seven-year low of $7.60 a share.
As a market maker, Knight stands ready to buy and sell shares at quoted prices, adding to market liquidity.
The trading glitches follow a series of events that have hurt retail investors' confidence in the market, including the botched Facebook initial public offering, the 2010 "flash crash," and the failed public offering of BATS Global Markets.
A spokesman for the U.S. Securities and Exchange Commission said the agency is "closely monitoring the situation" and is in "continuous contact with the NYSE and other market participants."
A surge of orders were executed at the start of trading on Wednesday, disrupting normal trading activity. Several market participants said these orders may have been intended to be filled throughout the day but instead were executed in the opening minutes of trading.
The stocks affected ranged from well-known bellwethers like General Electric (GE.N) to tiny, little-traded names such as Wizzard Software Corp (WZE.A). Some stocks saw heavy buy orders that sent their shares soaring, while others, such as Molycorp (MCP.N), plunged.
The broader market was little changed, with the Standard & Poor's 500 index down 0.18 percent in afternoon trading after the Federal Reserve issued its policy statement at the close of a two-day meeting. However, the trading glitch was the focus for traders.
"That has disrupted all the normal activities - stocks are moving all over the place, they are weird, they are trading like millions of shares, 100 shares at a time, so something went haywire somewhere," Stephen Massocca, managing director, Wedbush Morgan in San Francisco, said in the first hour of trading.
It was unclear whether the problem was related to NYSE's new program, launched on Wednesday, that gives retail traders slightly better prices than others in the market.
The program is seen as an effort to induce retail investors to trade away from mostly off-exchange electronic "wholesalers."
The NYSE's Retail Liquidity Program is a direct challenge to Knight and other market makers that typically get a first look at the highly coveted orders from individual traders, known as retailers, and it is meant to reclaim some market share NYSE lost over the last decade.
A spokesperson for NYSE Euronext (NYX.N) declined to comment, but a source familiar with the matter said the exchange had not experienced any issues with its systems or its normal circuit breakers that halt excessively volatile stocks.
"It appears to be dozens if not hundreds of stocks that have (seen) extremely high volume and extremely rapid movement," said Joe Saluzzi, co-manager of trading at Themis Trading in Chatham, New Jersey.
The volatility caused pauses in trading in five stocks: Corelogic Inc (CLGX.N), China Cord Blood Corp (CO.N), Kronos Worldwide (KRO.N), Trinity Industries (TRN.N) and Molycorp.
"All the brokers were on it within seconds, recognizing this was not normal behavior in most of these stocks," said Doreen Mogavero, chief executive at Mogavero, Lee & Co, who trades on the floor of the NYSE.
Trading in those names was much heavier than normal. Molycorp traded more than 5.7 million shares in the first 45 minutes of trading. The stock usually averages about 2.65 million shares daily, and it was one of the stocks halted due to excessive volatility. The stock traded between a range of $17.50 and $14.35 on the session.
Unusual volume was seen in a disparate group of stocks, including Lithia Motors (LAD.N), which already had seen trading volume of 4.3 million shares. The stock usually trades about 95,000 shares daily.
Among other stocks, Protective Life (PL.N) had already traded more than 10 times its usual volume, and Juniper Networks JPNR.N has already seen six times its usual daily volume.
(Additional reporting by Angela Moon, Rodrigo Campos John McCrank and Anna Louie Sussman in New York and Sarah Lynch in Washington; Editing by David Gaffen, James Dalgleish and Leslie Adler)
Updated Date: Aug 02, 2012 00:45 AM