Egyptian submarine joins hunt for EgyptAir black box recorders | Reuters
CAIRO Egypt deployed a submarine on Sunday to hunt for the black box flight recorders of the EgyptAir plane that crashed in some of the deepest waters of the Mediterranean Sea with 66 people on board, President Abdel Fattah al-Sisi said. Ships scouring the sea north of Alexandria for three days have found body parts, personal belongings and wreckage from the Airbus 320, but are still trying to locate the recorders which could shed light on the cause of Thursday's crash. Sisi said that underwater equipment from Egypt's offshore oil industry was being brought in to help the search
CAIRO Egypt deployed a submarine on Sunday to hunt for the black box flight recorders of the EgyptAir plane that crashed in some of the deepest waters of the Mediterranean Sea with 66 people on board, President Abdel Fattah al-Sisi said.
Ships scouring the sea north of Alexandria for three days have found body parts, personal belongings and wreckage from the Airbus 320, but are still trying to locate the recorders which could shed light on the cause of Thursday's crash.
Sisi said that underwater equipment from Egypt's offshore oil industry was being brought in to help the search.
"They have a submarine that can reach 3,000 metres under water," he said in a televised speech. "It moved today in the direction of the plane crash site because we are working hard to salvage the black boxes."
French investigators said on Saturday that the plane sent a series of warnings indicating that smoke had been detected on board shortly before it disappeared off radar screens.
The signals did not indicate what caused the smoke or fire, and aviation experts have not ruled out either deliberate sabotage or a technical fault, but they offered early clues as to what unfolded in the moments before the crash.
"Until now all scenarios are possible," Sisi said in his first public remarks on the crash. "So please, it is very important that we do not talk and say there is a specific scenario."
The crash was the third blow since October to hit Egypt's travel industry, still reeling from political unrest following the 2011 uprising that ousted Hosni Mubarak.
A suspected Islamic State bombing brought down a Russian airliner after it took off from Sharm al-Sheikh airport in late October, killing all 224 people on board, and an EgyptAir plane was hijacked in March by a man wearing a fake suicide belt.
Islamic State claimed responsibility for the Sharm al-Sheikh bombing within hours but a purported statement from the group's spokesman Abu Muhammad al-Adnani, distributed on Saturday, made no mention of the crash.
ANGUISH OF RELATIVES
EgyptAir has told relatives of the victims, who were mainly Egyptian and French nationals, that recovering and identifying bodies from the sea could take weeks - adding to the pain and uncertainty of grieving families.
Samar Ezzedine, 27 years old and newly wed, was one of the cabin crew on flight 804. Her mother Amal has sat in the lobby of a hotel overlooking Cairo Airport, still waiting for her daughter to come back.
"She is missing, who hosts a funeral for a missing person?" she murmured.
Samar's aunt, Mona, said Amal was reluctant to go home or even move away from the hotel door. "She doesn't want to believe it... I told her to switch off her phone, but she said: What if Samar calls?"
An EgyptAir union appealed to Sisi to allow death certificates to be issued for the victims, to avoid the usual five-year delay in the case of missing people which leaves relatives in a legal limbo, including over pensions.
In his speech on Sunday, Sisi said the investigation would not be over quickly, but promised it would be transparent.
"This could take a long time but no one can hide these things. As soon as the results are out people will be informed," he told ministers and parliamentarians in the port city of Damietta.
The October crash devastated Egyptian tourism, a main source of foreign exchange for a country of 80 million people.
Tourism revenue in the first three months of the year plunged by two thirds to $500 million from a year earlier, and the latest incident could crush hopes for a swift recovery.
The aircraft was carrying 56 passengers, including a child and two infants, and 10 crew. They included 30 Egyptian and 15 French nationals, along with citizens of 10 other countries.
EgyptAir Chairman Safwat Moslem said the radius of the search zone was 40 nautical miles, but could be expanded. The radius is equivalent to an area of 5,000 square nautical miles (17,000 square km).
A European satellite spotted a 2 km-long oil slick in the Mediterranean, about 40 km (20 nautical miles) southeast of the aircraft's last known position, the European Space Agency said.
(Additional reporting by Abdelnasser Aboelfadl; Writing by Dominic Evans; editing by Anna Willard)
This story has not been edited by Firstpost staff and is generated by auto-feed.
World
Their official meeting or reunion took place on Monday (13 September) in Texas, but the two had earlier met at the border last week. They met each other after communicating on social media.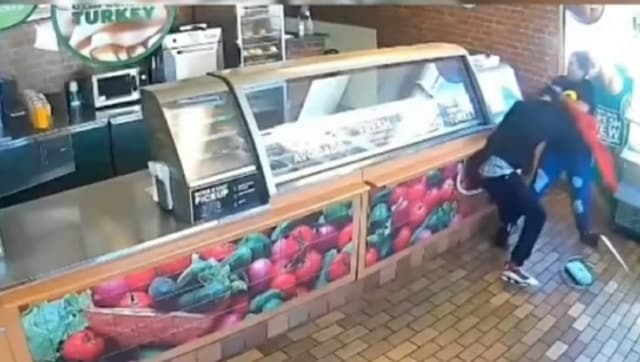 World
The video, captured on 5 September, shows Sotelo fighting off an armed robber, hitting him repeatedly with his own gun.
News & Analysis
In its partnership with Ray-Ban's parent company, EssilorLuxottica, Facebook has called its glasses, a stepping stone toward 'full augmented reality glasses'.