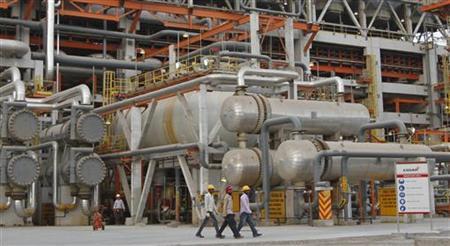 BOGOTA (Reuters) - Colombia's Ecopetrol ECO.CN will sell 12 million barrels of its Castilla crude oil to India's Essar Oil (ESRO.NS) over a year, in a deal worth around $1.2 billion, the Bogota-based company and a source said on Wednesday.
The Andean nation's largest oil producer said it sent the first shipment of 2 million barrels of oil in a Very Large Crude Carrier on July 29 and it would take 35 days to arrive in India.
An Ecopetrol source said that the oil would be sent to a refinery of India's Essar, but the source did not have information on the sale price per barrel.
The crude will go from Colombia's Covenas port, the main oil harbor, to Vadinar in western India.
Essar has significantly boosted processing of heavy and ultra heavy crudes at its Vadinar refinery in the western Gujarat state to improve refining margins, the company's managing director said on Tuesday.
Essar aims to buy 15-20 percent of its crude oil needs from the domestic market, 35-40 percent from Latin American sources, and 30-40 percent from the Middle East, it said in May.
In 2010, the company began replacing Latin American crudes with locally produced Mangala oil but has now turned back to the region to feed its expanding capacity. In April-June, it shipped in oil from Venezuela, Mexico, Colombia, and Brazil.
(Reporting by Jack Kimball; Editing by Bernadette Baum)
Updated Date: Aug 16, 2012 02:15 AM