Drug approvals bounce back as R&D labs churn out new winners | Reuters
By Ben Hirschler | LONDON LONDON The number of new drugs approved for sale in United States and Europe has bounced back this year, suggesting a marked slowdown in 2016 was an aberration rather than a sign of flagging research and development productivity.The U.S.
By Ben Hirschler
| LONDON
LONDON The number of new drugs approved for sale in United States and Europe has bounced back this year, suggesting a marked slowdown in 2016 was an aberration rather than a sign of flagging research and development productivity.The U.S. Food and Drug Administration has already cleared 21 new prescription medicines for sale against 22 in the whole of 2016, and just nine at this stage last year.The European Medicines Agency has recommended 42 compared with a 2016 total of 81, and 31 in the first five months of last year. Unlike the FDA, the EMA includes generic or non-patented drugs in its list.John LaMattina, a former research head for Pfizer and a board member at PureTech Health, is unsurprised by the rebound and believes concerns raised at the end of 2016 about deteriorating drug pipelines were "far too dire".Significantly, drugmakers are getting smarter about the way they develop medicines by shifting resources from mass-market products to more specialist and higher-priced therapies.That is fuelling a long-term pick-up in numbers, although it also stores up problems in terms of drug pricing as healthcare providers try to control their spending, with some new cancer treatments costing more than $10,000 a month."A lot of biopharmaceutical companies are filling their pipelines with programmes that seek treatments for diseases that can be approved with an accelerated review such as rare diseases, different cancers and anti-infectives," LaMattina said.
"These types of programmes benefit from requiring modest-sized clinical trials and have the potential for generous pricing. We're seeing fewer R&D resources devoted to programmes that require rigorous differentiation in Phase III trials."Phase III is the final stage when new drugs are tested on large numbers of patients.Big pharma companies are not necessarily out of the woods when it comes to getting a decent return on the billions of dollars they spend each year on R&D, since more and more drugs come from the labs of young biotech companies.But this year's crop does include several highly promising products from large multinationals that are tipped to generate billions of dollars in sales, according to consensus analyst forecasts compiled by Thomson Reuters.
They include Sanofi and Regeneron's Dupixent for severe eczema, projected to sell more than $5 billion by 2023, Roche's multiple sclerosis drug Ocrevus, with sales above $4 billion, and AstraZeneca's cancer drug durvalumab, forecast to generate nearly $3 billion.Other major new medicines still awaiting approval this year include Novo Nordisk's diabetes drug semaglutide, as well as a novel cell therapy for leukaemia from Novartis and a shingles vaccine from GlaxoSmithKline.ROBUST PIPELINE
There have been setbacks as well, with Amgen and UCB, for example, no longer expecting their experimental osteoporosis drug to win approval in 2017 due to safety issues.
After a spike in 2014 and 2015, there had been worries that last year's fall in drug approvals to a six-year low might signal more fundamental problems in industry productivity or a slowdown by regulators.In fact, one-off factors contributed to the poor figure. Several drugs won an early green light at the end of 2015 and others had decisions pushed back into 2017, including Roche's Ocrevus and Sanofi/Regeneron's Kevzara for rheumatoid arthritis, which finally won a green light on Monday.According to QuintilesIMS, which compiles data for the pharmaceutical sector, the robust state of the industry's late-phase R&D pipeline means it is well placed to yield an average of 40 to 45 new launches annually through to 2021. Hilary Thomas, chief medical adviser at KPMG, said U.S. regulators in particular were showing an innovative approach that was helping to accelerate approvals - as highlighted by a novel decision to clear a cancer drug for the first time based on genetics, not tumour location.Still, the targeted nature of many new medicines will limit the overall patient population getting the latest wave of novel drugs."What the data masks is that while there might be more approvals, the total number of people getting new drugs is probably not going to up hugely because these are more specific, personalised treatments," she said. (editing by David Stamp)
This story has not been edited by Firstpost staff and is generated by auto-feed.
Find latest and upcoming tech gadgets online on Tech2 Gadgets. Get technology news, gadgets reviews & ratings. Popular gadgets including laptop, tablet and mobile specifications, features, prices, comparison.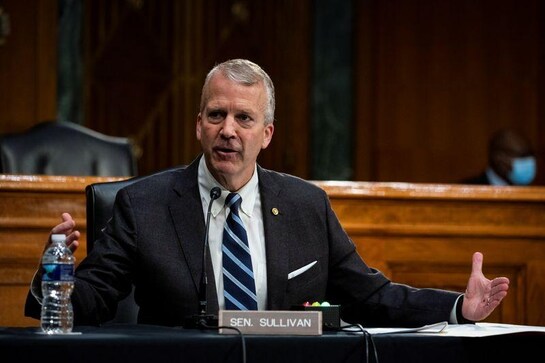 World
By David Morgan WASHINGTON (Reuters) - U.S.
World
LONDON (Reuters) - British Prime Minister Boris Johnson described his phone call with U.S. President-elect Joe Biden as a return to traditional issues in relations between Britain and the United States. "It was a kind of return to the kind of business that we're used to doing together: sticking up for democracy around the world, human rights, free trade, NATO, our joint security, the transatlantic alliance ..
World
By Nvard Hovhannisyan and Nailia Bagirova YEREVAN/BAKU (Reuters) - The fate of Armenia's prime minister hung in the balance on Wednesday after parliament agreed to discuss protesters' demands for his resignation over a ceasefire that secured territorial advances for Azerbaijan in Nagorno-Karabakh.