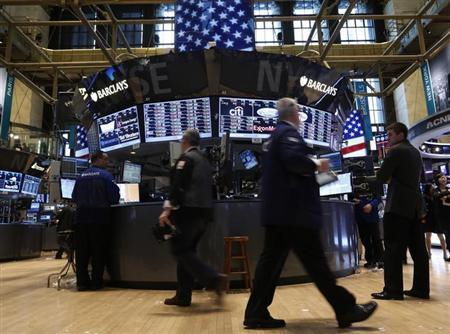 NEW YORK (Reuters) - Wall Street stocks fell on Friday as a drop in JPMorgan Chase led to the end of Dow Jones industrial average's 10-day rally, while the dollar retreated from a seven-month high despite more signs the U.S. economy is strengthening.
With the pullback in U.S. stock prices, the broader Standard & Poor's 500 index failed to make another run to break its all-time closing high, while European shares retreated from 4-1/2-year highs.
Investors shifted some money into safe-haven gold and U.S. and German government debt ahead of the weekend.
Evidence of an improving U.S. economy, together with supply concerns from the Middle East, boosted oil prices in London briefly back above $110 a barrel.
As the U.S. jobs picture brightens despite tax increases and government spending cuts, some analysts remain upbeat about the longer-term prospects for stocks.
"I don't think that one or two days' movement is really going to change the underlying momentum of this market, which I still think is pretty strong at this point," said Cam Albright, director of asset allocation at Wilmington Trust Investment Advisors in Wilmington, Delaware.
In addition to signs of the labor market picking up steam, data on Friday showed continued growth in U.S. manufacturing, although optimism was muted by news of a stronger-than-expected 0.7 percent rise in consumer inflation in February and a surprise deterioration in consumer confidence.
The Dow Jones industrial average ended down 25.03 points, or 0.17 percent, at 14,514.11. The S&P 500 lost 2.53 points, or 0.16 percent, at 1,560.70. The Nasdaq Composite Index fell 9.86 points, or 0.30 percent, to 3,249.07.
The S&P 500 came within about 4 points of its record closing high on Thursday before falling on Friday due to weakness in JPMorgan (JPM.N), a Dow and S&P component.
Shares of the largest U.S. bank by assets fell on news the Federal Reserve told it and Goldman Sachs (GS.N) they must fix flaws in how they set capital payouts to stockholders. In addition, a Senate report alleged JPMorgan had ignored risks, misled investors, fought with regulators and tried to work around rules as it dealt with mushrooming losses in a derivatives portfolio.
JPMorgan's stock sagged 1.9 percent at $50.02 a share. But other U.S. bank stocks rebounded from initial losses, with the S&P Financial index edging up 0.27 percent.
Europe's broad FTSEurofirst 300 index closed 0.4 percent lower at 1,203.01. But it recorded its fifth weekly rise and is hovering near its highest levels since mid-2008. .EU
Earlier, Tokyo's Nikkei index ended up 1.45 percent on the day, rising for a five weeks in a row.
MSCI's all-world index, which tracks 9,000 stocks in 45 countries, was up 0.17 percent at 362.47, rising for a second straight week.
Weaker stock prices increased the appeal of bonds and gold. Benchmark 10-year U.S. Treasury notes were up 13/32 in price to yield 1.991 percent, a one-week low, while German Bund futures were 0.22 percent higher at 143.45.
Gold inched up 0.1 percent to $1,591.04 an ounce, on its way to a weekly gain of 1 percent.
DOLLAR RECEDES
The dollar took a breather from its recent sprint higher, losing 0.56 percent to a one-week low against a basket of major currencies. But it did reach the seven-month high touched on Thursday.
The euro rose 0.52 percent to $1.3071, recovering from Thursday's three-month low of $1.2911, and was on course for a second consecutive weekly gain against the dollar.
Perceptions that U.S. inflation remains mild despite a spike in gasoline prices earlier this year have eased fears the Federal Reserve would need to consider an early exit from its aggressive quantitative easing policy that has helped support asset prices around the world.
"It looks like we still have some scope to continue with QE," said Andrew Dilz, foreign currency trader at Tempus Consulting in Washington.
In the oil market, crude prices drew strength from the better U.S. economic outlook and concerns over supply from the Middle East.
U.S. crude oil settled up 42 cents or 0.45 percent at $93.45 a barrel, while Brent rose $1.07 or 0.98 percent at $110.03.
Supply worries resurfaced when President Barack Obama, ahead of a visit to Israel next week, said military force remained an option if sanctions and diplomacy failed to thwart Iran's nuclear ambitions.
(Additional reporting by Chuck Mikolajczak, Wanfeng Zhou in New York; Richard Hubbard, Clara Denina, Marc Jones and Marius Zaharia in London; Editing by Peter Graff, Giles Elgood and Dan Grebler)
Updated Date: Mar 16, 2013 04:00 AM