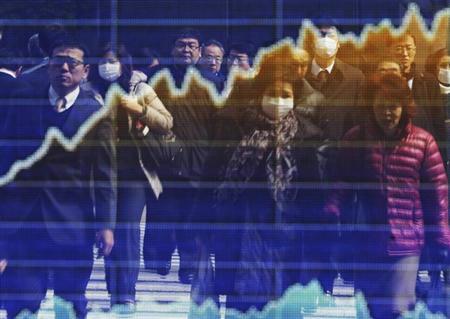 TOKYO (Reuters) - Asian shares extended gains on Wednesday as investors grew more risk-friendly following Wall Street's record close, signs of continuing U.S. economic recovery, and globally accommodative monetary conditions.
The MSCI's broadest index of Asia-Pacific shares outside Japan rose 0.5 percent, after surging 1.3 percent the day before. The index tumbled to a nine-week low on Monday.
Asian shares took their cue from overnight gains in global equities, with the Dow Jones industrial average ending at an all-time high and the pan-European FTSEurofirst 300 index closing at its highest in 4-1/2 years.
Data showing growth in the huge U.S. services sector rising in February to its fastest pace in a year bolstered investor sentiment while China's announcement of record government spending in 2013 boosted hopes of economic growth and demand for goods.
"Unlike 2007, implied volatility, the credit markets, and earnings imbalances are not flashing warning signs today," Barclays Capital said in a note, referring to the Dow.
"Still, while Fed policy can move stock prices, it cannot overcome fundamentals by itself and valuation metrics are not a compelling reason to be long stocks at current levels. We will be watching other asset classes closely for signs the 'reach for yield' is creating macroeconomic risks but believe we are some way from that point," it said.
Australian stocks jumped 0.9 percent, with banks and miners leading the index as investor confidence was buoyed by upbeat domestic data and signs of steady growth in China.
Commodity-linked currencies -- often linked to risk appetite -- firmed, with the Australian dollar adding 0.1 percent to $1.0261 well above an eight-month trough of $1.0116 plumbed on Monday.
Japan's Nikkei stock average opened up 1.1 percent at a fresh 4-1/2-year peak.
South Korean shares opened up 0.8 percent.
Despite the increasingly positive mood, there are still some areas of concern, namely the Chinese government's move to dampen the overheated property market, a possible economic impact from the U.S. "sequestration" spending cuts, and last month's election deadlock in Italy.
But these worries have been eclipsed by a belief that major central banks stand ready to provide funding and monetary policy support to sustain the fragile recovery trend worldwide.
The Bank of Japan, the Bank of England and the European Central Bank all hold their policy meetings on Thursday.
The euro held steady around $1.3047 while the dollar was up 0.1 percent against the yen at 93.33 yen.
U.S. crude was nearly flat at $90.78 a barrel.
Brent crude rose $1.52 per barrel to settle at $111.61. The front-month contract for April delivery rose as high as $111.93 a barrel in post-settlement activity, following news of Venezuelan President Hugo Chavez's death on Tuesday after a two-year battle with cancer.
(Editing by Eric Meijer)
Updated Date: Mar 06, 2013 06:30 AM