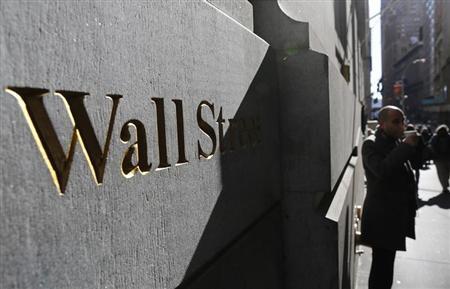 NEW YORK (Reuters) - The Dow Jones Industrial Average surged to a record on Tuesday, breaking through levels last seen in 2007 as investors poured money into blue-chip stocks in expectation of more gains amid signs of a strengthening U.S. economy.
The oldest U.S. stock market gauge has gained nearly 9 percent so far this year, ahead of the S&P 500 and Nasdaq Composite Index. Ten of the Dow's 30 component stocks reached new 52-week highs on a day when 418 stocks hit new yearly highs on the New York Stock Exchange.
Analysts said Tuesday's advance was linked less to one specific catalyst and more to the same factors that have been driving the rally this year, namely, attractive valuations and liquidity resulting from the U.S. Federal Reserve's easy monetary policies.
Markets have also shrugged off the stalemate between the GOP and the White House over automatic U.S. government spending cuts, known as the "sequester."
"Plenty of risks remain, but they are smaller - and they feel smaller to investors," said David Kelly, managing director and chief market strategist at JP Morgan Asset Management in New York.
The Dow is also on track to surpass the record closing high set on October 9, 2007, when it closed at 14,164.53.
"Stocks are close to fair value, but very cheap relative to the bond market and to cash, which is very expensive," Kelly said.
The Dow's forward 12-month price-to-earnings ratio was at 15.87, compared with 16.99 during the 2007 highs, according to Datastream. The S&P 500's price-to-earnings ratio was at 13.5.
Among stocks hitting all-time highs on Tuesday were Walt Disney Co (DIS.N) and Post-It note maker 3M (MMM.N). All 10 of the S&P 500's industrial sector indexes rose.
The Dow Jones industrial average was up 143.54 points, or 1.02 percent, at 14,271.36. The Standard & Poor's 500 Index was up 16.05 points, or 1.05 percent, at 1,541.25. The Nasdaq Composite Index was up 39.73 points, or 1.25 percent, at 3,221.76.
Tech stocks jumped, pushing the Nasdaq up more than 1 percent. Qualcomm Inc (QCOM.O) was one of the biggest gainers, with the stock up 1.8 percent at $67.80 after the world's leading supplier of chips for cellphones said it was raising its quarterly cash dividend by 40 percent.
CAUTIOUS OPTIMISM
Shortly after the opening bell, the Dow rose above 14,198.10, the intraday all-time high reached in October 2007, when the world was heading toward the financial crisis.
The broad benchmark S&P 500 is at a five-year high and about 2.2 percent away from its all-time intraday high of 1,576.09.
Equity investors have been welcoming signs of improvement in the U.S. economy - the latest sign was data showing that growth in the vast U.S. services sector accelerated to its fastest pace in a year in February.
But a big part of the rally that has continued in 2013 without a significant correction is the result of the U.S. Federal Reserve's easy monetary policy and the near zero short-term interest rates since December 2008.
As the market is aware that the cheap money from the Fed would have to eventually end, more investors were growing cautious.
"It's clear the economy isn't ready to have the Fed leave," said Ken Polcari, director of the NYSE floor division at O'Neil Securities in New York. "No one thinks we're going into a crisis like we did after 2007, but the sense of play is very telling. Even though people are in the market, they're very cautious and searching for yield.
"The caution is frustrated caution."
(Additional reporting by Ellen Freilich; Editing by Nick Zieminski, Kenneth Barry and Jan Paschal)
Updated Date: Mar 06, 2013 00:45 AM