Deutsche Bank freezes plans for N. Carolina jobs over transgender law | Reuters
FRANKFURT/WINSTON-SALEM, N.C.
FRANKFURT/WINSTON-SALEM, N.C. Deutsche Bank is freezing plans to create 250 new jobs in North Carolina after the state enacted a law last month that opponents say discriminates against lesbian, gay, bisexual and transgender (LGBT) citizens.
The announcement on Tuesday by Germany's largest lender follows other corporate protests of the law, one of a number of measures pitting LGBT equality rights against religious freedoms in state legislatures across the United States.
The North Carolina law prohibits anti-discrimination protections based on sexual orientation and gender identity. It also bars transgender people from using bathrooms or locker rooms in schools and other public facilities that do not match the sex on their birth certificate.
"We take our commitment to building inclusive work environments seriously," Deutsche Bank co-Chief Executive Officer John Cryan said in a statement.
Deutsche Bank, which employs about 900 people at its software application development center in Cary, North Carolina, had said last September that it planned to add 250 jobs there by 2017.
"We're proud of our operations and employees in Cary and regret that as a result of this legislation, we are unwilling to include North Carolina in our U.S. expansion plans for now," Cryan said.
Last week, PayPal Holdings canceled plans to open a global operations center in Charlotte, North Carolina, and invest $3.6 million in the area, and rock star Bruce Springsteen canceled a concert in the state to protest the law.
State House Majority Leader Mike Hager, a Republican, dismissed the fallout as cause for concern.
"We're not going to change our policies because of that," he said in a phone interview. "There will be other folks that will take their place."
Hager said the law was needed to protect women from having men in their bathrooms and to block local governments from dictating the personnel policies of private businesses.
(Editing by Maria Sheahan and Lisa Von Ahn)
This story has not been edited by Firstpost staff and is generated by auto-feed.
World
Published in 2019, the book addresses the issue of migrant children traveling unaccompanied to the United States.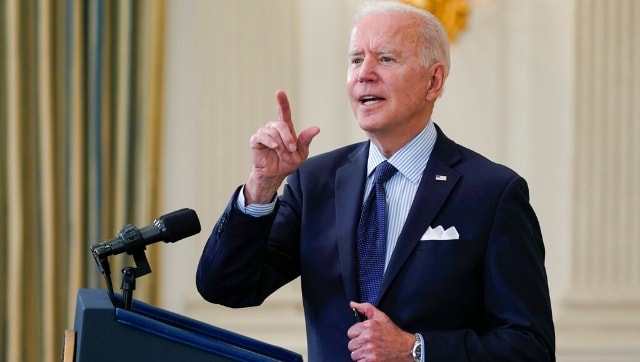 World
Biden will leave for the UK on Wednesday and then visit Brussels and Geneva as part of the trip, that ends next week
India
One in two Indian-Americans reported being discriminated against in the past one year, with discrimination based on skin colour identified as the most common form of bias