Debt concerns pile pressure on shares in Reliance Communications | Reuters
MUMBAI Shares in Reliance Communications fell nearly 10 percent on Wednesday after a sell-off in its bonds, sparked by concerns that the debt-laden firm may be unable to repay its lenders amid intense competition in the sector.The company, controlled by billionaire Anil Ambani, is the most leveraged Indian telecom carrier and local agency ICRA this month downgraded its ratings on the company.The bond sell-off accelerated early on Wednesday with yields spiking to nearly 21 percent on the 2020 bonds before a statement from Reliance eased market concerns. Yields in the instrument, which ended at 6.14 percent last week, stood at 13 percent at 1000 GMT on Wednesday.Reliance said it had paid the half yearly interest on the 2020 bond and that it had no outstanding dues on the bond. 'The company will continue to pay interest on respective due dates and the bonds will be repaid,' it said in its statement, while declining to comment on whether it had delayed servicing of any loans.India's telecom sector has been rattled by a price war and fall in revenues for established carriers after months of free services offered by new entrant Reliance Jio, controlled by the country's richest man and Anil's elder brother Mukesh Ambani.While Reliance Jio and Reliance Communications have entered into some pacts to offer some services jointly, Reliance Jio's cut-rate offerings have also dented Reliance Communications' as well as bigger rivals Bharti Airtel and Vodafone's local unit
MUMBAI Shares in Reliance Communications fell nearly 10 percent on Wednesday after a sell-off in its bonds, sparked by concerns that the debt-laden firm may be unable to repay its lenders amid intense competition in the sector.The company, controlled by billionaire Anil Ambani, is the most leveraged Indian telecom carrier and local agency ICRA this month downgraded its ratings on the company.The bond sell-off accelerated early on Wednesday with yields spiking to nearly 21 percent on the 2020 bonds before a statement from Reliance eased market concerns. Yields in the instrument, which ended at 6.14 percent last week, stood at 13 percent at 1000 GMT on Wednesday.Reliance said it had paid the half yearly interest on the 2020 bond and that it had no outstanding dues on the bond.
"The company will continue to pay interest on respective due dates and the bonds will be repaid," it said in its statement, while declining to comment on whether it had delayed servicing of any loans.India's telecom sector has been rattled by a price war and fall in revenues for established carriers after months of free services offered by new entrant Reliance Jio, controlled by the country's richest man and Anil's elder brother Mukesh Ambani.While Reliance Jio and Reliance Communications have entered into some pacts to offer some services jointly, Reliance Jio's cut-rate offerings have also dented Reliance Communications' as well as bigger rivals Bharti Airtel and Vodafone's local unit.
Following the ICRA downgrade on May 5, another local agency Credit Analysis & Research also cut its rating on the company's debt. Both agencies say competitive concerns will pressure profits, and Reliance Communications' highly-leveraged balance sheet.ICRA noted the company, widely known as RCom, had "sizeable debt repayment commitments," during the year.
"RCom has a toxic balance sheet and the business model is in tatters. With the likes of Airtel facing balance sheet stress and revenue declines, it will be a challenge for RCom to repay its loans as any business stress will create cash flow issues," said a Delhi-based fund manager, who did not wish to be named.Shares in Reliance closed 7.5 percent lower at 25.90 rupees. The stock has shed 15 percent of its value this week.The drop began after a sell-off in the company's 2020 bonds this week, following the recent rating downgrades and reported delays in the repayment of some loans. The company is selling a majority stake in its tower assets to Canada's Brookfield for 100 billion rupees, while it is also pinning hopes on a planned merger of its wireless business with rival Aircel to help cut debt its debt by about 70 percent, or 310 billion rupees. (Reporting by Euan Rocha, Sankalp Phartiyal, Samantha Kareen Nair, Tanvi Mehta, Suvashree Choudhury and Devidutta Tripathy; Editing by Keith Weir)
This story has not been edited by Firstpost staff and is generated by auto-feed.
Find latest and upcoming tech gadgets online on Tech2 Gadgets. Get technology news, gadgets reviews & ratings. Popular gadgets including laptop, tablet and mobile specifications, features, prices, comparison.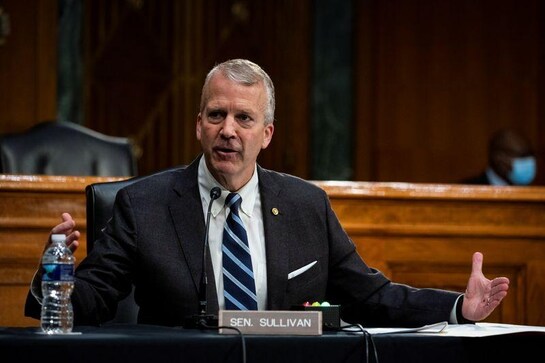 World
By David Morgan WASHINGTON (Reuters) - U.S.
World
LONDON (Reuters) - British Prime Minister Boris Johnson described his phone call with U.S. President-elect Joe Biden as a return to traditional issues in relations between Britain and the United States. "It was a kind of return to the kind of business that we're used to doing together: sticking up for democracy around the world, human rights, free trade, NATO, our joint security, the transatlantic alliance ..
World
By Nvard Hovhannisyan and Nailia Bagirova YEREVAN/BAKU (Reuters) - The fate of Armenia's prime minister hung in the balance on Wednesday after parliament agreed to discuss protesters' demands for his resignation over a ceasefire that secured territorial advances for Azerbaijan in Nagorno-Karabakh.