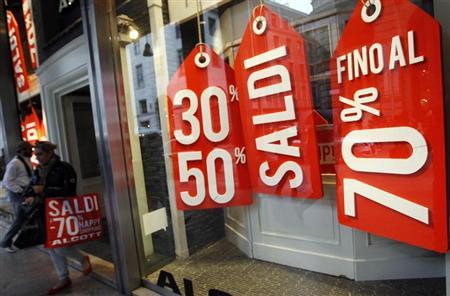 MILAN (Reuters) - Italian retail sales were sharply down on last year in the first week of the summer discount season as recession-hit domestic consumers kept a close eye on spending, the retail association Confesercenti said on Saturday.
Sales fell 15 percent from the same period last year but there was a marked difference between cities, as tourists in Milan's "golden quadrangle" kept sales of high fashion goods stable or growing, while in Bologna sales dropped 20 percent.
Foreign demand has helped luxury brands resist Italy's longest recession since World War Two and Confesercenti singled out Arab consumers as buyers of discounted luxury goods.
Italian consumer confidence rose in June, according to the statistics agency ISTAT, but this was partly helped by a revision of the calculation to better reflect the reality of a country in its longest recession since World War Two.
Parents resisted shopping for themselves to be able to afford clothes for their children in the first week of sales, Confesercenti said.
Revenues also fell during the first week of summer discounts in neighbouring France, as recession combined with bad weather to deter shoppers.
(Reporting By Isla Binnie; Editing by Kevin Liffey)
Updated Date: Jul 14, 2013 18:45 PM