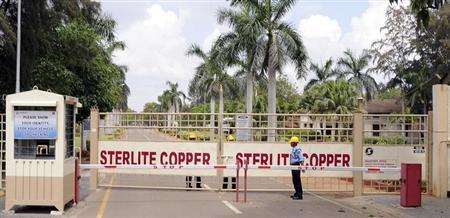 NEW DELHI (Reuters) - A court will resume a hearing on Monday into complaints of emissions from India's biggest copper smelter plant, shut since end-March, but will take a decision before May 31, a judge said on Thursday.
Imports have doubled and cable makers face a severe shortage of copper since authorities shut the plant, which meets half of India's demand and exports nearly 50 percent of its 30,000 tonnes of output to China, on complaints of emissions by local residents.
"We will do something about the case before the court goes on vacation next month," Justice Swatanter Kumar of the National Green Tribunal, a fast-track environmental court, said.
Most courts go on nearly a month-long vacation in the summer.
The Sterlite Industries(STRL.NS) plant was shut on March 30 after residents complained of emissions that led to breathing problems. The case was transferred to Delhi from a southern India branch of the court on April 29.
The smelter's closure had pushed about 3,000 tonnes per day of copper concentrates onto the market.
Sterlite, a unit of London-listed resources conglomerate Vedanta Resources Plc(VED.L), controlled by billionaire Anil Agarwal, has been awaiting clearances to double the capacity of the smelter to 800,000 tonnes a year.
(Reporting by Krishna N Das; writing by Mayank Bhardwaj; editing by Keiron Henderson)
Updated Date: May 24, 2013 04:15 AM