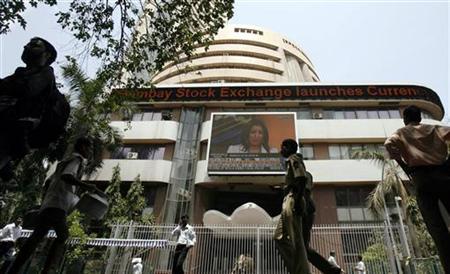 (Corrects to change value of Sensex to 17885.26)
By Manoj Dharra
MUMBAI (Reuters) - The BSE Sensex rose 1.1 percent on Tuesday to its highest close in five months led by Infosys after a U.S. court dismissed a lawsuit from an employee, while consumer good stocks gained on signs of improving rainfalls late in the monsoon season.
Shares also benefited from continued global demand for risk assets on hopes the European Central Bank will act to lower Spanish and Italian borrowing costs. The tentative optimism helped send European indices to 13-month highs, with the U.S. S&P 500 remaining at near four-year highs.
The improved global sentiment comes despite caution at home about whether the government will announce bold fiscal measures as well as other action to attract foreign investments into sectors such as aviation and retail.
Foreign institutional investors (FIIs) were net buyers of 8.98 billion rupees in domestic stocks last week, marking a third consecutive week of purchases, and bringing their total for the year to about $10.41 billion.
"Market appears in a bullish trend. Political and economic scenario at present doesn't permit government of India to take any bold steps. In spite of that, market is showing signs of improvement and breached 5,400, which is moving purely on FIIs inflows."
The BSE Sensex rose 1.1 percent to 17,885.26 points, its highest close since March 14.
The Nifty rose 1.02 percent to end at 5,421.00 points.
Despite the gains, plenty of other caution remains amid continued signs of slowing economic growth during a period of high inflation.
Data on Tuesday showed India's annual consumer price inflation slowed slightly in July to 9.86 percent, but a drought in parts of the country pushed food prices higher.
Among gainers on Tuesday, Infosys (INFY.NS) rose 2.5 percent after a U.S court dismissed harassment charges filed by a U.S. employee, providing a win for the company in its biggest market.
Television reports cited the chief executive of the software services exporter saying harassment claims by a second whistleblower in the United States were also unfounded.
Consumer good and auto shares rose after heavy rains hit some of the parched parts of the country, easing fears of a repeat of the widespread drought that gripped three years ago.
Hindustan Unilever (HLL.NS) rose 2 percent, while Godrej Consumer products (GOCP.NS) gained 4.4 percent.
Tractor maker Mahindra & Mahindra (MAHM.NS) shares rose 2.1 percent, continuing to benefit as well after April-June earnings earlier this month showed strong demand for its utility vehicles.
Maruti Suzuki (MRTI.NS), shares gained 0.9 percent after it reopened its Manesar factory on Tuesday under a heavy police presence. A deadly riot had shut the plant more than a month ago and cost the company more than $250 million in lost output.
However, Bharti Airtel (BRTI.NS) shares fell 1.4 percent after Morgan Stanley downgraded the wireless service provider to "equal-weight" from "overweight", citing concerns traffic growth was coming at the expense of profit margins.
($1 = 55.6750 rupees)
(Editing by Rafael Nam)
Updated Date: Aug 22, 2012 05:30 AM