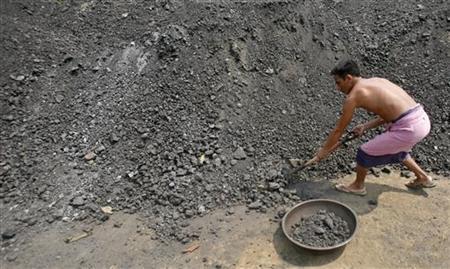 NEW DELHI (Reuters) - Coal India Limited (COAL.NS) will supply 8.8 percent more coal in the current fiscal year than the prior year, a junior minister said on Wednesday, sticking to targets even though the state miner has repeatedly fallen short of supply aims.
The world's largest coal miner is expected to supply 470 million tonnes in the current fiscal year, compared with actual supplies of 432.94 million tonnes in 2011/12. It had aimed to supply 452 million tonnes in the last fiscal year.
Coal India produces nearly 80 percent of the country's domestic coal supply of about 550 million tonnes but has struggled to increase local supplies for years because of failure to get swift environmental and regulatory approval and inadequate railway infrastructure.
India's power sector, which faced the world's worst blackout last week, will receive 337 million tonnes, an 8 percent increase from the last fiscal year, Ashwani Kumar, junior minister for planning, science and technology, and earth sciences, said in a written reply to lawmakers.
Three of India's five transmission grids collapsed last week, cutting power to states where some 670 million people live, more than half of the country's population, a day after facing a similar breakdown across the north.
Coal India agreed on Tuesday to pay penalties for failing to provide sufficient supplies to new Indian power projects that range from 1.5 to 40 percent of a shortfall, depending on the level of default.
Following is a table on Coal India and its subsidiaries' actual supplies versus set targets as provided by Coal Minister Sreeprakash Jaiswal in a separate written reply to lawmakers on Wednesday.
(Reporting by Malini Menon, editing by Jane Baird)
Updated Date: Aug 08, 2012 23:15 PM