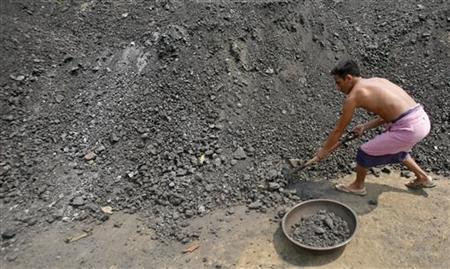 MUMBAI (Reuters) - Coal India (COAL.NS) agreed to supply at least 80 percent of the coal needed to fuel new power projects, a condition set by the government, but stipulated it could use a mix of 15 percent imported coal versus 65 percent domestic.
Its board, however, deferred a decision on penalties the company will pay in case it does not meet the supply guarantees, company officials said on Tuesday.
Electric utilities had asked for penalties equal to 10 to 20 percent of a shortfall in supply, while Coal India had earlier agreed to only 0.01 percent.
India aims to add 88,000 megawatts of power generation capacity in the next five years, most to be fuelled by coal. Coal India will now be able to sign agreements to supply utilities developing 48 power projects, officials said.
On Tuesday, nearly half of India's 1.2 billion people were without power in the second major blackout in as many days as the grids covering a dozen states broke down after some drew more than their share of electricity from the overstretched network.
Coal India, the world's largest coal miner, produces nearly 80 percent of the country's domestic coal supply of about 550 million tonnes.
The revised fuel supply contracts will reduce pressure on the miner, which has struggled to increase domestic supplies for years because of failure to get swift environmental and regulatory approval and inadequate railway infrastructure.
Earlier this year, the government, which owns 90 percent of the company, ordered it to sign contracts guaranteeing 80 percent of coal supplies to new projects, which would pave the way for power generators to obtain funding for their planned projects.
India relies on coal for two-thirds of its power generation and will need even more for the additional capacity planned to tackle a peak-hour power deficit of as much as 13 percent.
Earlier this year, Coal India posted its first drop in quarterly profit in two years due to its reversal of a price increase following protests from power companies and to a sharp jump in its annual wage bill. (Reporting by Prashant Mehra, editing by Jane Baird)
Updated Date: Aug 01, 2012 00:00 AM