Cipla lowers bio drugs investment, sharpens focus on respiratory | Reuters
By Zeba Siddiqui | MUMBAI MUMBAI Cipla Ltd (CIPL.NS), India's fifth-largest drugmaker by sales, plans to reduce investment in biosimilars to sharpen its focus on building a portfolio of high-margin respiratory products, the company's chief executive said on Thursday.It has put plans to build a biotech plant in South Africa, its third-largest market, on hold, and will soon start looking for partners for its existing biosimilars programme, CEO Umang Vohra said at a press conference.'We may play a smaller portion of the overall development and let a partner take on a larger portion,' he said. 'We believe that the profile of the biosimilars market today has become fairly competitive.'He did not say by how much the company would trim investment in biosimilars
By Zeba Siddiqui
| MUMBAI
MUMBAI Cipla Ltd (CIPL.NS), India's fifth-largest drugmaker by sales, plans to reduce investment in biosimilars to sharpen its focus on building a portfolio of high-margin respiratory products, the company's chief executive said on Thursday.It has put plans to build a biotech plant in South Africa, its third-largest market, on hold, and will soon start looking for partners for its existing biosimilars programme, CEO Umang Vohra said at a press conference."We may play a smaller portion of the overall development and let a partner take on a larger portion," he said. "We believe that the profile of the biosimilars market today has become fairly competitive."He did not say by how much the company would trim investment in biosimilars. It had planned to invest 1.3 billion rupees ($20.14 million) in the South African plant.The move signals a shift in Cipla's strategy from just three years ago, when Chairman and founder Yusuf Hamied said the company aimed to replicate its success at launching cut-price AIDS drugs in Africa in 2001 with cheap biosimilars. Copies of biotechnology drugs, however, are harder to make, command much higher research and development investments, and have a much tougher regulatory process. They account for a growing share of new drugs, and the future sales of copycat products are set to switch to these from simple small-molecule pills like aspirin.
Indian drugmakers have been relatively slow compared with European, American and South Korean companies in the U.S. biosimilars market, the most lucrative for such drugs.Some Indian firms such as Dr Reddy's Laboratories Ltd (REDY.NS) and Biocon Ltd (BION.NS) have been working on biosimilars for U.S. and Europe, but with larger Western partners. Cipla has been on its own so far, and said on Thursday that the programme was "squeezing" its investments in respiratory and other niche, so-called specialty programmes."We are not moving away from biosimilars. However, we are not in the aim to make them at $1 a day," Vohra said.
Cipla's focus on niche products comes as it tries to improve its footprint in the United States at an increasingly challenging time. Drugmakers are spending more than ever on factory upkeep after a string of U.S. bans on Indian sites due to poor quality control standards, and a consolidation between drug distributors has caused price erosion.Vohra said he expected pricing pressure to continue, but not impact the company much yet as its U.S. business is small relative to peers. It expects to start filing for U.S. approval of inhalers in a year, he added.
In its largest market, India, Cipla has been among the hardest hit in the past year from government-imposed price caps, and expects further disruptions from a nationwide tax reform plan in the coming months, Vohra said. Citing increasing volatility across markets, the company declined to give a financial forecast.It reported a fourth-quarter loss of 617.9 million rupees ($9.56 million), way below analysts' expectations of a profit of 3.45 billion rupees, due to one-off charges and a provision related to its biotech programme.($1 = 64.6125 Indian rupees)($1 = 64.5500 Indian rupees) (Reporting by Zeba Siddiqui in Mumbai; Editing by Edmund Blair and Susan Thomas)
This story has not been edited by Firstpost staff and is generated by auto-feed.
Find latest and upcoming tech gadgets online on Tech2 Gadgets. Get technology news, gadgets reviews & ratings. Popular gadgets including laptop, tablet and mobile specifications, features, prices, comparison.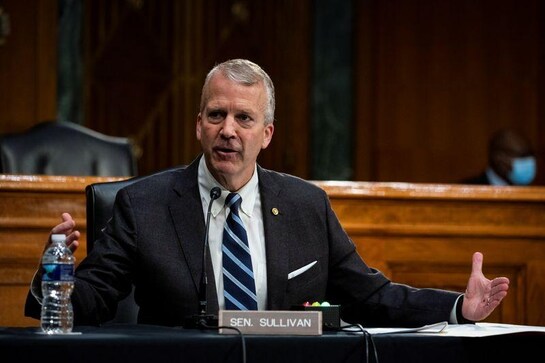 World
By David Morgan WASHINGTON (Reuters) - U.S.
World
LONDON (Reuters) - British Prime Minister Boris Johnson described his phone call with U.S. President-elect Joe Biden as a return to traditional issues in relations between Britain and the United States. "It was a kind of return to the kind of business that we're used to doing together: sticking up for democracy around the world, human rights, free trade, NATO, our joint security, the transatlantic alliance ..
World
By Nvard Hovhannisyan and Nailia Bagirova YEREVAN/BAKU (Reuters) - The fate of Armenia's prime minister hung in the balance on Wednesday after parliament agreed to discuss protesters' demands for his resignation over a ceasefire that secured territorial advances for Azerbaijan in Nagorno-Karabakh.