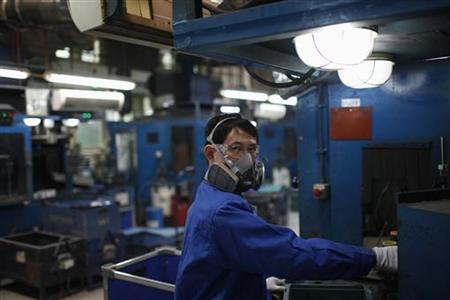 NEW YORK (Reuters) - China's vast manufacturing sector grew in early December and U.S. factories were having their best month since April, surveys showed on Friday, adding to hopes that the world's top two economies were on the mend.
Solid growth from the United States and China will be crucial to reviving the world economy in 2013, particularly with the euro zone likely sliding deeper into recession.
A possible budget crisis in the United States at year-end tempered investor optimism, however, and added a big dose of uncertainty to the economic outlook for the year ahead.
Investors and economists fear the United States could fall back into recession if lawmakers can't strike a deal to avert the "fiscal cliff" and allow some $600 billion in automatic tax hikes and spending cuts to take effect in 2013.
That's a grim prospect for global growth, particularly since the 17-country euro zone is already in recession. While an index of euro zone manufacturing and service sector activity rose to a nine-month high this month, it still showed contraction in both areas. That's consistent with the economy shrinking by 0.5 percent in the fourth quarter.
The news was better in Asia. The HSBC flash PMI showed China's manufacturing sector expanded in December at its fastest pace in 14 months as new orders and employment rose, adding to evidence of a pick-up in the economy that helped lift sentiment.
The data was "a further sign that the Chinese economy is already starting to recover," said Nikolaus Keis at UniCredit.
In the United States, financial information firm Markit said its manufacturing index showed the sector grew at its quickest pace in eight months as demand from domestic and foreign customers increased.
Separate data showed factory output posting its sharpest increase in nearly a year in November as auto production rebounded.
Stronger manufacturing should help bolster a U.S. economy that has seen slow but steady improvement in employment and consumer spending and signs of life in the housing market.
"People are always hoping for good news from the United States and China, as both economies are the main drivers of global economic activity," said Tom Porcelli, chief U.S. economist at RBC Capital Markets.
However, he said a more closely watched gauge of U.S. factory activity published earlier this month by the Institute of Supply Management showed the sector shrank in November, making it premature to conclude manufacturing was improving.
Uncertainty about the fiscal cliff also hurt sentiment, and not just because lawmakers are seen as increasingly unlikely to strike a deal by year-end.
More troubling, said Lena Komileva, chief economist at G+ Economics in London, is that there is no sign Congress is ready to draft a long-term deal to reduce the U.S. deficit, which was set to exceed $1 trillion in 2012 for the fourth straight year.
If lawmakers move from "short-term compromise to short-term compromise," she said that raises "the possibility of a series of fiscal cliffs in which harder compromises are left to future negotiations, and we'll see recurring damage to economic confidence."
EURO ZONE IMPROVES SLIGHTLY
Earlier on Friday, composite PMI data from Germany, Europe's largest economy, showed its private sector bounced back to growth for the first time in eight months in December.
In France, the downturn eased but the PMI held below 50 for the 10th straight month, indicating contraction.
But the regional euro zone PMI has been below the 50 mark for all but one of the past 16 months.
The PMI for the euro zone's dominant service sector continued to shrink this month, though at a slightly slower pace, as firms cut prices even as costs rose, taking a hit on their profit margins for a ninth straight month.
Manufacturers, who led the bloc out of the last recession, fared little better. The factory PMI crept up to 46.3 from 46.2.
But in a sign the global economy might be improving, the rate of decline in new export orders from factories eased, with the sub-index at a nine-month high of 46.8.
"There are some rays of hope here. It is moving in the right direction so there are signs that the business cycle has reached a low point globally and is picking up," said Chris Williamson, chief economist at Markit.
The euro zone economy contracted 0.2 percent in the second quarter and 0.1 percent in the third, meeting the technical definition of a recession and a Reuters poll last week predicted a 0.3 percent contraction in the current period.
That would be slightly better than the PMIs published on Friday suggest.
(Editing by Jeremy Gaunt, Clive McKeef and James Dalgleish)
Updated Date: Dec 15, 2012 00:45 AM