Buffett's Berkshire on verge of becoming BofA's top shareholder | Reuters
By Jonathan Stempel Warren Buffett's Berkshire Hathaway Inc (BRKa.N) may be on the verge of becoming Bank of America Corp's (BAC.N) largest shareholder, after the bank raised its dividend in the wake of a positive assessment of its ability to handle market stresses.Bank of America on Wednesday boosted its annual dividend 60 percent to 48 cents per share from 30 cents, beginning in the third quarter.Buffett has said a boost of that size would likely prompt him to swap Berkshire's preferred shares in the second-largest bank into common shares now worth about $16.7 billion.Berkshire did not immediately respond to requests for comment.An exchange would made Berkshire the largest shareholder of both Bank of America and Wells Fargo & Co (WFC.N), the third-largest U.S. bank, and more than triple a $5 billion investment made fewer than six years ago.It would also signal Buffett's confidence in Brian Moynihan, Bank of America's chief executive.Moynihan has worked to restore investors' confidence in his Charlotte, North Carolina-based bank after it spent more than $70 billion since the global financial crisis to resolve legal and regulatory matters, largely from its purchases of Countrywide Financial Corp and Merrill Lynch & Co. 'Buffett has said he is very happy with what Moynihan's doing, and it's easy work for him to get more dividends,' said Bill Smead, whose $1.16 billion Smead Value fund includes shares of both companies
By Jonathan Stempel
Warren Buffett's Berkshire Hathaway Inc (BRKa.N) may be on the verge of becoming Bank of America Corp's (BAC.N) largest shareholder, after the bank raised its dividend in the wake of a positive assessment of its ability to handle market stresses.Bank of America on Wednesday boosted its annual dividend 60 percent to 48 cents per share from 30 cents, beginning in the third quarter.Buffett has said a boost of that size would likely prompt him to swap Berkshire's preferred shares in the second-largest bank into common shares now worth about $16.7 billion.Berkshire did not immediately respond to requests for comment.An exchange would made Berkshire the largest shareholder of both Bank of America and Wells Fargo & Co (WFC.N), the third-largest U.S. bank, and more than triple a $5 billion investment made fewer than six years ago.It would also signal Buffett's confidence in Brian Moynihan, Bank of America's chief executive.Moynihan has worked to restore investors' confidence in his Charlotte, North Carolina-based bank after it spent more than $70 billion since the global financial crisis to resolve legal and regulatory matters, largely from its purchases of Countrywide Financial Corp and Merrill Lynch & Co.
"Buffett has said he is very happy with what Moynihan's doing, and it's easy work for him to get more dividends," said Bill Smead, whose $1.16 billion Smead Value fund includes shares of both companies. "For Bank of America, it would mean a further endorsement by the most spectacular large-cap stock picker of all time."Buffett is worth $76.1 billion, Forbes magazine says.The dividend increase required approval by the Federal Reserve, which conducts annual "stress tests" of big banks' ability to handle tough economic and market conditions.On Wednesday, the Fed approved capital plans for Bank of America, which also announced a $12 billion stock buyback plan, and 33 other large U.S. banks.
LENDER OF LAST RESORT
Buffett had bought $5 billion of Bank of America preferred stock with a 6 percent dividend, or $300 million annually, in August 2011, when investors worried about the bank's capital needs.The purchase included warrants to acquire 700 million common shares at $7.14 each, less than one-third Wednesday's closing price of $23.88.
In his Feb. 25 letter to Berkshire shareholders, Buffett said he "would anticipate" swapping the preferred stock into common stock if the annual dividend rose above 44 cents per share.If Omaha, Nebraska-based Berkshire made the swap now, it would have a $11.7 billion paper profit and begin collecting $336 million of annual dividends, on top of roughly $1.7 billion of dividends already paid.A swap would also let Berkshire enjoy gains if Bank of America's stock price rose. In contrast, the value of the preferred shares will not change so long as Bank of America does not collapse. Berkshire's warrants expire in September 2021.Buffett's bet was among more than $25 billion of high-yielding investments he made from 2008 to 2011 in such companies as General Electric Co (GE.N) and Goldman Sachs Group Inc (GS.N).The investments shored up confidence in the companies and helped give Buffett a reputation as a lender of last resort when times were tough.Bank of America's largest shareholder is Vanguard Group, whose 652.4 million shares give it a 6.6 percent stake, Reuters data show. (Reporting by Jonathan Stempel in New York; Editing by Sandra Maler and Dan Grebler)
This story has not been edited by Firstpost staff and is generated by auto-feed.
World
The incident occurred in Dasu area of Upper Kohistan district of Khyber Pakhtunkhwa province where Chinese engineers and construction workers are helping Pakistan build a dam which is part of CPEC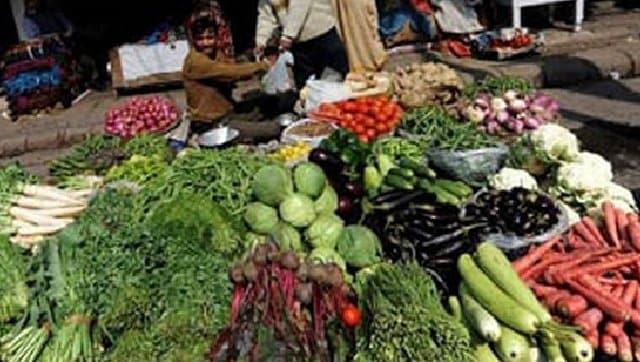 Business
Inflation in fuel and power basket eased to 32.83 percent during June, against 37.61 percent in May
India
The Pulitzer prize winner, who was in Kandahar covering operations against Taliban, was killed when he was riding along with the Afghan Special Forces