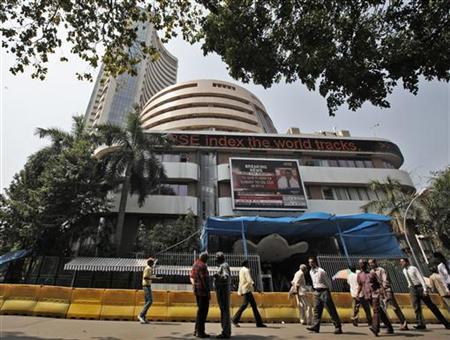 MUMBAI (Reuters) - The BSE Sensex and Nifty fell on Wednesday to a five-week low as worries the government would struggle to raise fuel prices in a bid to reduce the country's fiscal subsidy burden hit state-run oil companies and routed blue chips.
India's leaders are seen struggling to convince coalition members to take steps such as raising diesel prices, or opening up sectors such as retail and aviation to foreign investors, steps seen as necessary to shore up confidence in the country.
Any delay in action could undo the rally in domestic stocks last month, which had been built on hopes Prime Minister Manmohan Singh would push for policy reforms in the window between presidential elections last week and the start of parliament's monsoon session in early August.
However, a senior oil ministry official told reporters on Wednesday a hike in fuel prices was unlikely before September.
"If the reforms are not happening, then market is going to perceive it negatively, and we will see market coming down as this will further slow down the acceleration in the growth process," he said K.K. Mital, Head of Portfolio management at Globe Capital.
The 30-share BSE Sensex fell 0.43 percent to 16,846.05 points, after earlier falling as much as 1.1 percent to its lowest level since June 19.
The 50-share Nifty fell 0.36 percent to be at 5,109.85 points.
The growing worries about the government's struggles come during a period of intensifying global risk aversion, as the euro zone debt crisis threatens to lead to a sovereign bailout for Spain.
The BSE index had gained 7.5 percent last month, but has fallen 3.4 percent so far in June.
How foreign investors react to any delay in policy reforms would be particularly key.
Overseas investors sold a net 2.53 billion rupees in stocks on Tuesday, according to provisional exchange data, their first selling session this month, though they are still net buyers of 98.15 billion rupees so far this month.
State-run Indian Oil Corporation (IOC.NS) declined 0.9 percent, while Hindustan Petroleum Corp (HPCL.NS) fell 1.2 percent, and Bharat Petroleum Corp (BPCL.NS) lost 1.6 percent.
These oil companies help subsidise the cost of fuel along with the government, making a hike in prices key to their margins.
Blue chips were also hit: Bharti Airtel (BRTI.NS) declining 2.5 percent, while Hindustan Unilever (HLL.NS) lost 2.5 percent in a retreat from its record high on Tuesday.
Some shares also fell after market regulator Security Exchange Board of India tightened the criteria for derivatives trading, leading National Stock Exchange to weed out 51 stocks from the tradable futures and options (F&O) segment.
Among the stocks affected, Jet Airways (JET.NS) fell 4.2 percent, while Essar Oil fell 2.31 percent.
Jindal Steel & Power Ltd (JNSP.NS) shares fell 4.6 percent after the company said net profit dropped 58.1 percent in the April-June quarter from a year ago, due mainly to 5.7 billion rupees set aside to wind down its operations in Bolivia after a contract dispute with the Andean government.
Among gainers, HCL Technologies (HCLT.NS) rose 6 percent after posting a 29 percent surge in its April-June earnings from a year earlier, showing positive signs such as more outsourcing orders and a sequential increase in revenue.
(Editing by Rafael Nam)
Updated Date: Jul 25, 2012 23:00 PM