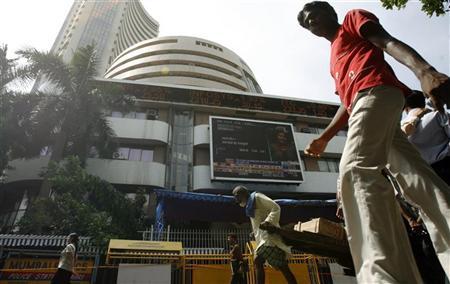 MUMBAI (Reuters) - The BSE Sensex fell for a second consecutive session on Monday after government measures to help prop up the rupee from recent record lows failed to inspire investors, who were hoping for more extensive action.
Financial shares such as State Bank of India were among the day's leading decliners, as part of falls across some of the country's blue chips.
The Reserve Bank of India announced measures on Monday including raising the limit of foreign investment in government bonds by $5 billion to $20 billion and other relatively minor steps.
(Read more, New measures to boost rupee disappoint markets, click here)
Investors had hoped for more structural reforms from the Finance Minister to boost long-term foreign investments or central bank steps such as targeting dollar demand from oil companies that were expected to have had a bigger impact.
"Market has only itself to blame for today's fall, given the kind of unnecessary expectations it had from RBI," said Phani Sekhar, a fund manager at Angel Broking in Mumbai.
The main 30-share BSE index fell 0.53 percent to 16,882.16 points, after earlier rising as much as 0.93 percent.
The broader 50-share Nifty fell 0.61 percent to 5,114.65 points.
Hopes had risen after Finance Minister Pranab Mukherjee said over the weekend India would unveil measures on Monday to arrest the slide of rupee, after the currency hit a record low of 57.32 against the dollar on Friday.
India was seen as failing to deliver on Monday, though sentiment did get support after Moody's Investors Service maintained on Monday a "stable" outlook on rating.
That denoted a more optimistic view after both Standard & Poor's and Fitch Ratings had cut their sovereign outlook for India to "negative.
The banking sector as measured by Bank Nifty fell 1.12 percent. State Bank of India fell 1.98 percent, while HDFC Bank lost 1.41 percent.
Blue chips were largely weaker, especially recent outperformers declined. ONGC fell 2.5 percent, after closing on Friday at its highest level since March 15.
Among other decliners, Tata Steel fell 0.94 percent. Credit Suisse downgraded the stock to "underperform" from "neutral," while maintaining its target price at 340 rupees, saying valuations are no longer "supportive.
But index heavy weight Reliance Industries rose 0.73 percent after Moody's said the long-term fundamentals of the company remain intact despite weak macro outlook.
Suzlon Energy rose 2 percent after a senior company official said it expects to tie up $300 million in loans from banks by the end of June to repay its overseas bondholders, raising hopes the wind turbine maker would meet its commitments.
(Additional reporting by Abhishek Vishnoi; Editing by Rafael Nam)
Updated Date: Jun 25, 2012 23:45 PM