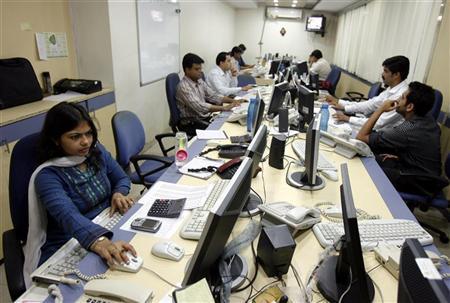 MUMBAI (Reuters) - The BSE Sensex fell on Friday as Reliance Industries continued to reel over worries about output from its KG-D6 block, while cement makers dropped after receiving a record fine from a competition regulator on price fixing charges.
The falls came on a day when risk assets were hit by growing worries about the global economy and Moody's Investors Service downgrade of some of the world's major banks.
The rupee fell to a record low for a second consecutive session, past the psychologically important 57 to a dollar mark, once again underscoring India's weak fiscal health slowing economy.
However, the slump in global crude prices sparked a rally in oil stocks such as ONGC, while investors are also waiting to see who will replace Finance Minister Pranab Mukherjee when he steps down next week to run for the ceremonial post of president.
The change in finance minister comes at a time of deepening worries about slowing policy reforms despite the fiscal and economic challenges.
"We are looking at possible roll out of reforms, and ground is very well laid for the reform process to flow out because there is pressure from all ends," Ambareesh Baliga, COO at Way2Wealth, calling it a "make or break" moment for the economy and the government.
The BSE Sensex fell 0.4 percent to 16,972.51 points, cutting earlier losses of as much as 1.3 percent.
The broader 50-share Nifty fell 0.37 percent to 5,146.05 points.
However, both indexes posted mild gains for the week -- with the BSE index ending up 0.13 percent and the NSE index gaining 0.14 percent -- to mark a third consecutive week of gains.
That came despite the disappointment after the Reserve Bank of India kept interest rates on hold on Monday and after Fitch Ratings also cut India's sovereign outlook to "negative," following up on the similar cut by Standard & Poor's in April.
But a rally in oil stocks as crude prices slumped allowed the indexes to also outperform the 0.7 percent fall in the MSCI Asia-Pacific ex-Japan index.
RELIANCE, CEMENT MAKERS FALL
Shares in Reliance Industries fell 1.1 percent on continued concerns about gas output after Canada's Niko Resources Ltd. slashed the reserve estimate at the KG D6 block on Wednesday.
Bank of America-Merrill Lynch downgraded Reliance to "underperform" from "neutral", citing the lowered production estimates.
Shares in Indian cement manufacturers dropped after they were fined a combined $1.1 billion for price fixing, even as many of them vowed to appeal the ruling by the nation's increasingly assertive anti-trust regulator.
ACC (ACC.NS) fell 3.1 percent, while Ambuja Cement (ABUJ.NS) ended 2.9 percent lower.
Shares in Infosys (INFY.NS) fell 0.7 percent after brokerage Jefferies said the Indian software services provider is "likely" to cut fiscal 2012/13 guidance to 6-8 percent growth from 8-10 percent because of lower tech spending and currency volatility.
However, oil shares rose, tracking lower global crude prices, and helping index cut some of their loses.
Explorer ONGC rose 1.6 percent, closing at its highest level since March 15, gaining 5.1 percent for the week.
Oil India (OILI.NS) added 2.6 percent to close at its highest since April 4, advancing 5.3 percent for the week.
Both state-run refiners and explorers in India benefit from lower oil prices because the companies share with the government the burden of selling fuel products at discounted prices.
(Additional reporting by Manoj Dharra)
Updated Date: Jun 22, 2012 23:15 PM