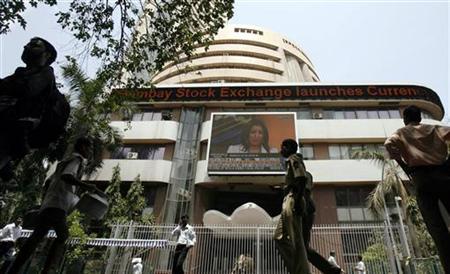 MUMBAI (Reuters) - The BSE Sensex fell on Thursday on profit-taking, led by declines in auto stocks such as Tata Motors, while Adani group stocks were also hit after gaining recently on expectations Narendra Modi would win a fourth successive term as chief minister of Gujarat.
Concerns that a strong victory by the opposition in Gujarat elections might affect the bargaining position of the government at the centre to push forward its reforms agenda, also added to the anxiety, dealers said.
Narendra Modi looked set to win a fourth successive term as the chief minister of Gujarat, a victory that could launch the prime ministerial ambitions of one of the country's most popular but controversial leaders.
With parliament's winter session ending on Thursday, the rally's extension would not depend on how well RBI manages slowing growth and sticky inflation.
"The credit policy is something we are looking forward and then the budget session will keep markets busy," said Vaibhav Sanghavi, director at Ambit Capital.
In the medium term, the outlook is bullish and the coming two years will be good for equities, he added.
The BSE Sensex fell 0.11 percent, or 22.08 points, to end at 19,453.92, after marking its near 2-week closing high on Wednesday.
The Nifty fell 0.22 percent, or 13.20 points, to end at 5,916.40, although closing above the psychologically important 5,900 level.
Tata Motors (TAMO.NS) fell on profit-taking after rising 7.9 percent in the previous five sessions after stronger-than-expected November sales at Jaguar Land Rover reduced concerns about the outlook for the key unit of the Indian auto maker.
Capital goods stocks such as Larsen & Toubro (LART.NS) fell on worries of a slowdown in order bookings, dealers said.
Adani Group stocks fell on profit-taking after gaining recently on expectations Narendra Modi would win a fourth successive term in India's Gujarat state.
Adani Enterprises Ltd (ADEL.NS) fell 7.1 percent ahead of its planned sale of 23 million shares on Friday.
Adani Ports and Special Economic Zone Ltd (APSE.NS) ended 3.6 percent lower, after rising 11.6 percent in December as of Wednesday's close, while Adani Power Ltd (ADAN.NS) shares fell 5 percent after gaining 29.2 percent this month.
Shares in Shasun Pharmaceuticals (SHAS.NS) fell 6.9 percent after Vertex Pharmaceuticals (VRTX.O) warned on Wednesday its hepatitis C drug Incivek, which is used in conjunction with two other products, can cause serious, potentially fatal skin reactions.
Shasun has a long-term agreement with Vertex for supply of active pharmaceutical ingredient for the Hepatitis C drug.
However among stocks that gained, Tata Steel (TISC.NS) gained 1.8 percent, JSW Steel (JSTL.NS) ended 2 percent higher after China said it will scrap a 40 percent export duty on metallurgical cokefrom next year.
The move is expected to weigh on prices on metallurgical coke, giving steel firms access to cheaper imports from China.
Tata Consultancy Services (TCS.NS) ended 1.6 percent higher, gaining for a second day after its management reiterated its positive forecast for fiscal years 2013 and 2014 in a meeting with analysts on Monday.
Multi Commodity Exchange of India (MCEI.BO) gained 0.9 percent, while Financial Technologies (FITE.NS) rose 2.7 percent after the company said it has received the final go-ahead from the markets regulator Securities and Exchange Board of India (SEBI) for starting operations in MCX Stock Exchange.
Maruti Suzuki (MRTI.NS) shares gained 0.7 percent on bets a steep depreciation in the yen will boost earnings by reducing the costs of imports from Japan.
(Additional reporting by Manoj Dharra; Editing by Sunil Nair)
Updated Date: Dec 21, 2012 00:15 AM