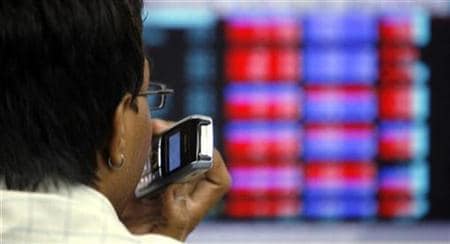 MUMBAI (Reuters) - The BSE Sensex retreated on Monday from its 14-month high hit in the previous session as profit-booking hit recent outperformers such as Reliance Industries and investors continued to shift out of defensive stocks such as ITC.
Indian shares also tracked the weaker Asian markets as investors refocused attention from central bank stimulus schemes to weak global economic fundamentals and the euro zone's still unresolved debt crisis.
Analysts say Indian shares had become susceptible to some consolidation after the BSE Sensex gained 7.6 percent in September as of Friday's close.
A slew of government measures such as allowing foreign direct investment into multi-brand retail and aviation, and the Federal Reserve's new asset purchase programme were the key reasons behind the gains.
"This is a small profit-booking after a big rally, one can expect the positive mode to commence in the coming days. Hopefully the government will be able to sustain the reform process," said Jagannadham Thunuguntla, head of research at SMC Investments and Advisors Ltd.
"The Bear market has ended, down side is fairly protected. It's an excellent cocktail of global liquidity and local reforms," Thunuguntla said.
The Sensex fell 0.42 percent, or 79.5 points, to 18,673.34, retreating after ending at the highest close since July 25, 2011 on Friday.
The BSE index briefly hit its highest intraday level since July 26, 2011 earlier in the session on Monday.
The 50-share Nifty fell 0.38 percent, or 21.55 points, to 5669.60, f inding resistance at the 5,700 level for the second consecutive session.
Foreign institutional investors have been the key reason behind the rally to 14-month highs, having bought shares for a total of 85.88 billion rupees in the past five sessions.
Additional reforms could spark further gains, with analysts saying the government may next announce reforms in goods and services tax and a debt restructuring for state electricity boards.
Among the declining stocks on Monday, Reliance Industries (RELI.NS) fell 1.64 percent after gaining 11 percent so far in September as of Friday's close.
Cigarette maker ITC (ITC.NS) and Hindustan Unilever (HLL.NS) fell 2.2 percent each, as investors continue to shift away from the defensive sectors that had been in favour earlier this year and into cyclicals and high beta stocks.
Some banking stocks also fell to profit-taking: State Bank of India lost 0.7 percent after surging 19 percent over the previous six sessions.
Larsen & Toubro (LART.NS) fell 0.44 percent after Goldman Sachs downgraded the engineering conglomerate to "neutral" from "buy", saying the stock was trading above historical median valuations.
Most software services exporters declined, tracking a recent surge in the rupee and on worries about a subdued global demand outlook.
Tata Consultancy Services (TCS.NS) fell 1.12 percent, while HCL Technologies (HCLT.NS) fell 1.96 percent.
However, among the gainers, power sector lenders Power Finance Corp (PWFC.NS) gained 2.85 percent, while Rural Electrification Corp (RURL.NS) rose 5.3 percent on continued hopes the government will restructure loans to the state utilities in control of electricity supply.
Shares in Maruti Suzuki gained 3.27 percent on hopes for increased sales from the launch of a new Alto 800 model in mid-October, during India's festival season.
(Additional reporting by Manoj Dharra)
Updated Date: Sep 24, 2012 22:45 PM