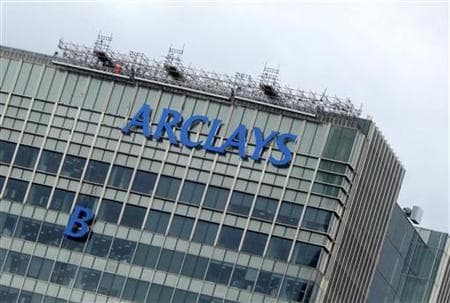 LONDON (Reuters) - British bank Barclays Plc (BARC.L), shaken to its core in the last month by an interest-rate rigging scandal, is bracing for more scrutiny on Friday on its plans to rebuild its brand and revive shareholder and customer confidence.
The bank is expected to unveil a half-year profit of 3.8 billion pounds -- compared with 3.7 billion a year ago -- but investors say more crucial is guidance on its search for a new chief executive and chairman and whether its investment bank will be pared back.
Barclays was last month hit with a record 290 million pound fine by U.S. and British regulators for rigging the Libor interest rate benchmark between 2005 and 2009, sparking fierce criticism about its culture and risk-taking.
As the backlash built, the Bank of England effectively forced Bob Diamond to resign as chief executive. Chairman Marcus Agius, a Cambridge- and Harvard-educated pillar of London banking who has been criticised for not reining in Diamond, has taken on executive duties but will leave when a successor is found.
A inquiry by UK lawmakers following the Libor crisis showed that Britain's financial regulator had warned Barclays four months earlier that its culture was too aggressive and must change.
"They are going to have to say why lax conduct can't happen again and what they are doing about it," said a top 40 shareholder in the bank, who asked not to be named.
NEW BLOOD
Investors are keen for one or both of the CEO or chairman to come from outside, who could implement a far-reaching overhaul.
"We want new blood on its board, we want a new chairman who's not been associated at all with any of these controversies. We just need to have people who understand the ethical and reputational risk the bank's under," the shareholder said.
Former J.P. Morgan (JPM.N) banker Bill Winters is favourite to be CEO and former UK Cabinet Secretary Gus O'Donnell is front-runner for chairman, according to industry sources and UK media reports.
Barclays is reviewing all parts of its investment bank, people familiar with the matter said, and the scale of any retreat will be a key issue for the new CEO.
Its investment banking income in the second quarter is likely to have dipped from the first quarter, as several U.S. and European rivals have already shown the impact of the eurozone crisis on trading activity.
Barclays has admitted its culture needs to change and it has picked veteran lawyer Anthony Salz to lead a review of practices, expected to be completed before May 2013.
More than a dozen other banks are expected to be drawn into the global Libor investigation and could also be fined.
But Barclays is struggling to limit the damage and could come under fire on Friday on payouts for those in charge.
Jerry del Missier, the chief operating officer who quit after becoming embroiled in the Libor scandal, is set to receive an almost 9 million pound pay-off, prompting criticism of "reward for failure".
(Additional reporting by Chris Vellacott; Editing by David Holmes)
Updated Date: Jul 27, 2012 05:16 AM