British banks seen holding back Iran trade due to fear of U.S. penalties | Reuters
LONDON British banks remain reluctant to finance trade with Iran, fearing they could still be targeted by existing U.S. sanctions that are impeding Tehran's re-entry into markets after years of isolation, officials said on Monday
LONDON British banks remain reluctant to finance trade with Iran, fearing they could still be targeted by existing U.S. sanctions that are impeding Tehran's re-entry into markets after years of isolation, officials said on Monday.
International measures against Iran - including banking curbs - were lifted in January as part of the deal with world powers under which Tehran curbed its nuclear program. But the Islamic Republic is struggling to access new financing as many large banks fear falling foul of remaining U.S. restrictions.
"This is a problem I regret will take a little time to resolve," said Britain's trade envoy to Iran, former finance minister Norman Lamont.
"You can understand why they (banks) are extremely cautious - they have already been fined billions of dollars," he told a City & Financial Iran Trade conference in London.
Alexandra Renison, with Britain's Institute of Directors (IoD) lobby group, said that smaller European banks were starting to move toward providing trade finance to Iran, but the "risk appetite is absolutely not there" for British lenders.
"Any banks in the UK that really have any exposure in the United States ... are simply not budging," she told the conference.
Renison said it is even proving difficult to bring together businesses, policymakers and banks, frustrating efforts.
Evan Warren, a senior policy adviser with the UK's finance ministry, acknowledged that the close business ties between British banks and their U.S. counterparts did "pose significant challenges".
Iranian Supreme Leader Ayatollah Ali Khamenei has accused the United States of foot-dragging following the official implementation in January of the nuclear deal.
British Trade and Investment Minister Mark Price said the UK was working on these issues with Washington, adding that Business Secretary Sajid Javid would meet with British banks ahead of an official trade delegation to Iran next month.
"His plan is to take UK banks out on that delegation," Price told the conference. "This government would like to see the banks play their part."
U.S. President Barack Obama and administration officials have denied in recent days that they planned to offer Iran access to the U.S. financial system or use of the U.S. dollar for transactions.
Efforts by opposition Republican U.S. lawmakers to introduce a bill that would block Iran from accessing dollar financing are adding to pressure. The IOD's Renison said such "volatility is scaring a lot of the banks away".
When asked about efforts to bar any access to dollars now faced by Iran, Lamont told Reuters it was "most unfortunate".
"The U.S. is now saying it (access to dollars) is not an option," he said. "We have to find other ways of solving it."
(Editing by Mark Heinrich)
This story has not been edited by Firstpost staff and is generated by auto-feed.
World
The robot can gather intelligence for ground troops, carry injured soldiers and supplies in and out of battle, and strike nearby targets
India
In 2019, Pakistan had denied twice India's request to use its airspace for Modi's flight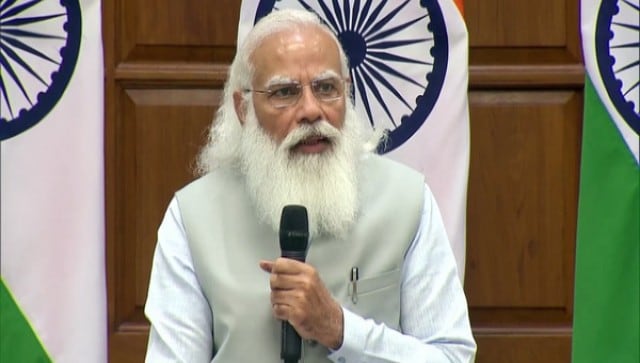 World
New strategic alignments and alliances are taking shape, even as old relationships suddenly seem to have regained their relevance