Britain's EU 'Remain' campaign needs ground troops, passion | Reuters
BRUSSELS Campaigners to keep Britain in the European Union, boosted by a visit from U.S. President Barack Obama, seem to be winning the air war in the media, but they could yet lose the crucial ground war to bring out the vote.
BRUSSELS Campaigners to keep Britain in the European Union, boosted by a visit from U.S. President Barack Obama, seem to be winning the air war in the media, but they could yet lose the crucial ground war to bring out the vote.
With opinion polls showing the Remain camp has a slender lead two months before polling day, and many people still undecided, turnout will be decisive in the June 23 referendum.
Few Britons are as passionate about staying in the 28-nation bloc as eurosceptics are about leaving it, so the risk is that the "soggy middle" of apathetic or lukewarm supporters of EU membership stay home on voting day.
Edouard Lecerf, global director of political and opinion at pollsters TNS, said just under 60 percent of the electorate say they will definitely or probably cast ballots. Only 46 percent are certain to vote. That is down from the 66.1 percent turnout at last year's general election.
While the Remain campaign has a well-oiled media machine and the support of most business chiefs, the main political party leaders and the trade unions, it may lack the foot soldiers who play a vital role in bringing voters to the polling stations.
The ruling Conservative party is split, with grassroots activists often virulently eurosceptical. The opposition Labour party, although more pro-European, is taking a low profile, reluctant to do Prime Minister David Cameron any favours.
Labour activists say their working-class base is angry about immigration, industrial job losses and falling living standards and reluctant to hear a pro-EU message on the doorstep.
On the Leave side, canvassers from the UK Independence Party, which has drawn many former Labour voters, and anti-EU Conservatives are already busily knocking on doors in provincial England, where many older and poorer voters live.
"The key battle is going to be on turnout," said Simon Hix, professor of politics at the London School of Economics and chairman of VoteWatch EU, which monitors voting patterns in EU institutions. "A high turnout means young people will have voted and they're probably pro-Remain."
"The Remain campaign has a very effective air campaign but most viewers and listeners have already made up their mind," Hix said. "Leave has door-to-door fighters in every corner of the country. Remain doesn't have many people on the doorstep."
Surveys show the so-called Celtic fringes - Scotland, Northern Ireland and Wales, which have benefited most from EU regional spending - are more pro-European, as are voters in cosmopolitan London. But much of England, including the old industrial heartlands of the Midlands and the North and the more rural southwest, are leaning towards Leave.
The risk of a low and skewed turnout is aggravated by the electoral rules.
British, Irish and Commonwealth citizens resident in the United Kingdom are eligible but must register to vote. Young voters are no longer automatically registered by household. First-time voters will miss out unless they register by June 7, and many appear unaware.
Britons living abroad are disenfranchised after 15 years and many who have been out of the country for shorter periods may not register to vote. Citizens of other EU countries who live, work and pay taxes in Britain are not allowed to participate.
A senior Remain campaigner, speaking on condition of anonymity, said his camp needed a turnout near general election levels to win. "If the turnout is low, or very high, then it is good for 'Out'," he said.
A leading Leave campaigner, speaking on the same condition, predicted turnout would be less than 60 percent giving his side a good chance of winning.
Mobilising young people, who polls show are more pro-European than their elders, will be vital for the Remain camp.
The Eurostar, EasyJet and Erasmus generation, who take foreign travel on high-speed trains or budget airlines and studying abroad for granted, are more likely to see the EU as a key to their future.
Yet opinion surveys show the young are also less likely to vote, partly because of lower registration, but also due to their greater mobility, university exams and distractions like the Euro 2016 soccer tournament, which will be in full swing on referendum day.
British and European politicians following the campaign are struck by the lack of passion among Remain advocates, who focus on economic arguments about the potential losses from leaving the EU's internal market.
"The Remain campaign will have to bring a bit more emotion into the campaign," said David McAllister, a German member of the European Parliament who is a vice-president of the centre-right European People's Party and close to Chancellor Angela Merkel.
"The EU is more than just a single market. They need to talk about peace, reconciliation, liberty, economic success in the last 50 years," said the former state premier, born of a Scottish father and a German mother.
Given the bitter splits among Cameron's Conservatives, "without massive support from Labour and the unions, we won't win the referendum," McAllister told an event organised by the Bavarian conservative Hanns Seidel Foundation.
The Remain campaign official said Europe's leading role in the fight against climate change could help fire up young voters. The pro-EU camp also plans to deploy Russian President Vladimir Putin as an argument for staying in the bloc.
"The one man who will celebrate most if it goes the wrong way is sitting in Moscow," McAllister said.
(Additional reporting by Guy Faulconbridge in London; Writing by Paul Taylor; Editing by Hugh Lawson)
This story has not been edited by Firstpost staff and is generated by auto-feed.
World
Since taking office, US vice president Kamala Harris has met with or spoken to over thirty world leaders, promoting US interests on issues ranging from global health to climate change to cyber threats
World
Australia's submarine upgrade was a response to China's takeover of the South China Sea, aggressive bullying of Australia and intimidation of Japan and Taiwan, said Peter Jennings.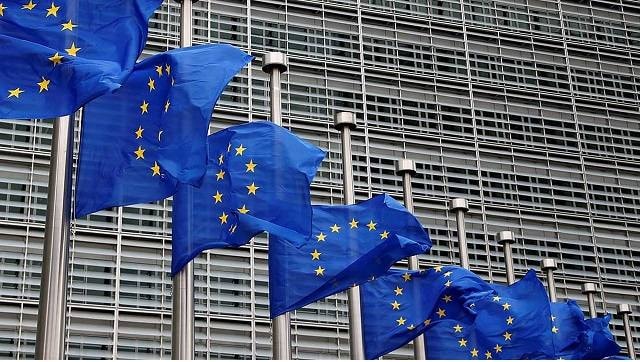 World
The US government on Monday announced that starting 1 November, it will lift the pandemic travel ban on all air passengers who are fully vaccinated and undergo testing and contact tracing.