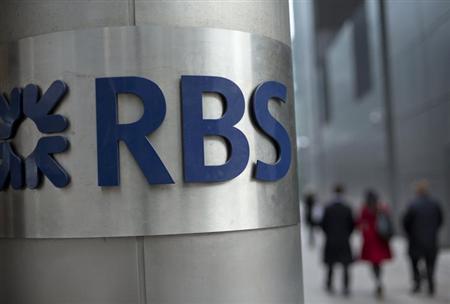 LONDON (Reuters) - Britain's finance minister George Osborne on Saturday dismissed newspaper reports the government was planning to give away its stake in state-controlled Royal Bank of Scotland (RBS.L) by 2015, saying such discussions were "premature."
Britain owns 82 percent of RBS after rescuing the bank by pumping in 45 billion pounds of capital when it neared collapse in 2008.
Newspapers reported on Saturday that Osborne and Treasury ministers were planning to sell off shares to the public at a discount or even give away the government's majority stake ahead of parliamentary elections due in 2015.
But speaking in Moscow where G20 finance ministers are meeting, Osborne poured cold water on the reports, saying such options would not be considered until the share price reached the level the former Labour government paid for them.
"It's just a premature discussion about what to do with the shares," Osborne told Sky News.
"We've got to get the Royal Bank of Scotland to a point where it is worth what the taxpayer paid then we can have a big national discussion about what to do with the shares and how to return it to the private sector."
RBS shares closed at 3.44 pounds on Friday, well below an average price nearer to 5 pounds the government paid for its stake.
In October, the bank said it was preparing to sell the shares in 2014, one year before the election, with the timing and sale structure up to the government. No share giveaway was mentioned.
Deputy Prime Minister Nick Clegg, leader of the Liberal Democrats, the coalition government's junior partner, backed proposals in 2011 to give the public shares in part-nationalised banks because taxpayer money had been used to keep the banking system alive.
At the time, the Treasury said it would "look at all options", but critics dismissed the idea as a headline-grabbing exercise.
(Reporting by Michael Holden; editing by James Jukwey)
Updated Date: Feb 16, 2013 23:15 PM