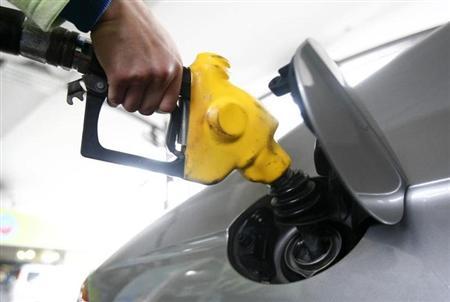 NEW YORK (Reuters) - Brent crude oil fell by almost 3 percent to near $100 a barrel on Monday, extending a two-week selloff that has sliced nearly 10 percent off prices, as part of a wider flight by investors from commodities.
Gold posted its biggest two-day loss in 30 years while Brent crude fell for the eighth time in 10 sessions in what analysts said were indications that a host of weak fundamental signals dominated sentiment.
In the United States, crude oil stockpiles have ballooned to a 30-year high as domestic output surges, with no end in sight. Global demand has struggled due to economic uncertainty in top consuming nations.
Against the background of weaker fundamentals, lower-than-expected GDP growth from No. 2 oil consumer China rattled the commodity complex further on Monday and pushed Brent to near $100 a barrel for the first time since July 2012.
The Brent contract for May delivery, which expired on Monday, traded as low as $100.02 a barrel in early U.S. activity before settling down $2.72 at $100.39 a barrel.
Meanwhile, the contract for June delivery fell below $100 a barrel for the first time since July, extending its sell-off in post settlement trading to as low as $99.12 a barrel.
Over the past 10 sessions, Brent prices have dropped by 10 percent, sending the contract to just over 26 on the 14-day Relative Strength Index. Commodities are generally considered oversold if they dip below 30 on that index.
U.S. crude settled down $2.58 at $88.71 a barrel, hitting the lowest level since mid-December in heavy trading, with volumes 47 percent above the 30-day moving average.
"The selloff is long overdue and is a reflection of weakness in the market that everyone had been perceiving," said Edward Morse, global head of commodities research at Citigroup.
He said inventory builds in the United States would likely continue into the third quarter and that Chinese fuel demand was weaker than expected.
"I struggle to find where the demand surprise could be."
Punctuating the bearish mood, Goldman Sachs (GS.N), one of the most influential banks in commodity markets, recommended clients close their bets on rising Brent prices, warning the market could continue to fall.
U.S. gasoline futures gave up 1.7 percent to trade at $2.75 per gallon, hitting the lowest level for this time of year since 2010.
Heading into the summer driving season, U.S. stockpiles of gasoline are nearly 4.9 million barrels over the five-year average, while demand is at the lowest seasonal level since 2003, according to U.S. government data.
WEAK OUTLOOK
Monday's selling was kick-started by data showing China's economic growth unexpectedly slowed in the first three months of 2013, falling to 7.7 percent from 7.9 percent in the final quarter of last year. Economists had forecast 8 percent growth.
The news compounded Friday's weak U.S. retail sales data and forecasts for lower global oil demand growth for 2013 released last week by the International Energy Agency, the U.S. Energy Information Administration and the Organization of the Petroleum Exporting Countries.
As gold breached key support at $1,400 per ounce and copper hit 1-1/2-year lows, the Thomson Reuters-Jefferies CRB index, that tracks 19 commodity markets, dropped to the lowest level since late June.
Tensions mounted on Monday over a contested presidential election in Venezuela, with opposition contender Henrique Capriles urging his followers to protest Nicolas Maduro's declared victory.
U.S. equity markets fell for a second straight session, with major indices down more than 1 percent.
A preliminary survey of analysts by Reuters forecast U.S. crude stocks rising by 1.4 million barrels for the week ended April 12. Distillate stocks, which include heating oil and diesel fuel, were projected to have fallen 300,000 barrels on average last week.
(Additional reporting by Robert Gibbons, Matthew Robinson and David Sheppard in New York, Peg Mackey in London and Jessica Jaganathan in Singapore; Editing by Grant McCool, Dale Hudson, Nick Zieminski and Bob Burgdorfer)
Updated Date: Apr 16, 2013 04:30 AM