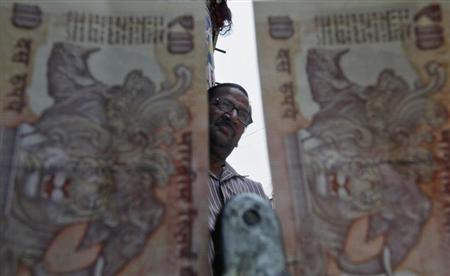 MUMBAI (Reuters) - The bonds fell for a second consecutive session, posting their worst weekly loss in nearly a year as foreign investors sold heavily on the back of a fall in the rupee to record lows and narrowing differentials with U.S. Treasury yields.
The falls came amidst a rout in emerging markets after the U.S. Federal Reserve signalled a rollback of its monetary stimulus, while data continued to show a weakening Chinese economy.
The yield on the benchmark 10-year government bond rose 12 basis points on the week, its biggest weekly rise since early August 2012.
Investors are waiting for the January-March current account deficit data due next week, a critical indicator as concerns about the imbalance has been a key factor behind the rupee's fall and is also keeping the central bank cautious about cutting interest rates further.
The rupee's movements will also be key after the currency hit a record low of 59.9850 to the dollar on Thursday.
"Rupee movement would continue to be a major factor in play for the bond market. I expect bonds to be around their current range next week as well," said Aniruddha Iyer, assistant vice president for fixed income at Quant Capital.
The benchmark 10-year bond yield ended up 4 bps at 7.43 percent after moving in a 7.42 percent to 7.45 percent range. Total volume on the central bank's electronic trading platform was at a low 292.25 billion rupees, compared with the average 600 billion rupees in recent weeks.
Foreign funds have sold a net $5.33 billion since May 22, the day Fed Chairman Ben Bernanke first hinted at a stimulus withdrawal.
Bigger falls in bond prices on Friday were prevented after India successfully sold 150 billion rupees in government debt, with no devolvements in the benchmark 10-year bonds.
Debt markets will likely remain vulnerable as long as the rupee remains weak or the current account deficit shows further stress. The Reserve Bank of India kept interest rates on hold this week, after easing in each of the three previous reviews, citing inflationary risks and a weak rupee.
In the overnight indexed swap market, rates rose in morning trade on the back of rupee weakness, but later retraced as the currency stabilised and auction cut-offs came in better than expected.
The benchmark five-year OIS rate ended steady at 7.25 percent, after hitting 7.30 percent, its highest since February 4. The one-year rate closed 2 bps lower at 7.42 percent, after touching 7.48 percent, its highest since March 26.
On the week, the five-year rose 28 bps, its biggest weekly rise since October 2, 2011, while the one-year rate rose 24 bps, its biggest weekly rise since July 26, 2011.
(Editing by Prateek Chatterjee)
Updated Date: Jun 22, 2013 02:30 AM