Bharti Airtel Q4 beats as more customers pay for mobile internet | Reuters
MUMBAI Bharti Airtel Ltd, India's largest telecoms network operator, reported a better than expected 2.8 percent rise in its fourth-quarter profits on Wednesday, boosted by a 15 percent rise in subscribers in its home market for mobile broadband services to 35.5 million. Consolidated net profit rose to 12.90 billion rupees ($194.23 million) in the quarter ended March 31, from 12.55 billion rupees a year earlier, the company said
MUMBAI Bharti Airtel Ltd, India's largest telecoms network operator, reported a better than expected 2.8 percent rise in its fourth-quarter profits on Wednesday, boosted by a 15 percent rise in subscribers in its home market for mobile broadband services to 35.5 million.
Consolidated net profit rose to 12.90 billion rupees ($194.23 million) in the quarter ended March 31, from 12.55 billion rupees a year earlier, the company said.
Analysts on average had expected a net profit of 12.21 billion rupees, according to a Reuters poll.
Bharti Airtel, headed by Indian billionaire Sunil Mittal, said total revenues rose 8.4 percent to 249.6 billion rupees.
Separately the company also approved a share buyback of 14.34 billion rupees.
India has over 1 billion mobile phone users, making it the second biggest market behind China, and the market for mobile internet services is growing fast as only a third of phone users already have smartphones.
Over 100 million smartphones were sold in India last year and that number is expected to grow by over 25 percent this year while network operators are investing heavily in providing 4G broadband.
In the last two months alone Bharti has spent about $1.2 billion on buying radio spectrum to expand its 4G service.
($1 = 66.4158 Indian rupees)
(Reporting by Himank Sharma; Editing by Anupama Dwivedi, Greg Mahlich)
This story has not been edited by Firstpost staff and is generated by auto-feed.
science
Ebola outbreaks are usually thought to result from the virus "spilling" from an animal host to a human. But the analysis showed the Guinea strain was virtually identical to that from a 2013-16 wave.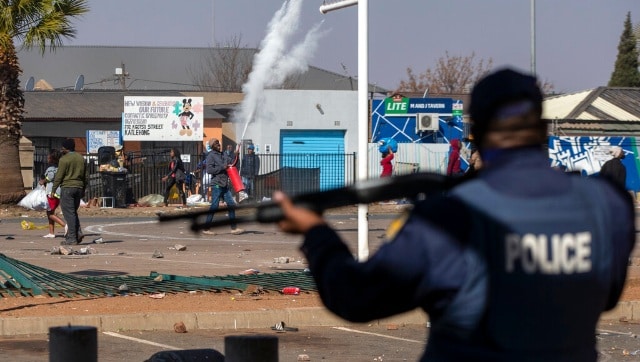 World
The way the political protest against former South African president Jacob Zuma's incarceration turned into wider rioting and looting highlights South Africa's widespread poverty, unemployment and economic disparity
World
The Iranian president in his maiden speech at the UN slammed the US saying the world no longer cares about "America First" or "America is Back"