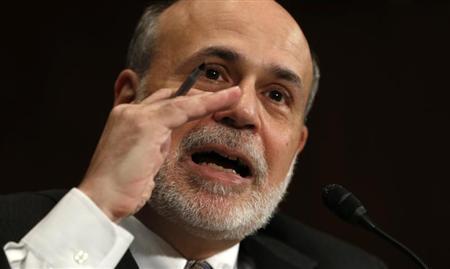 WASHINGTON (Reuters) - Federal Reserve Chairman Ben Bernanke said on Thursday it was too soon to judge if recent "mixed" signals from the U.S. economy would prompt the central bank to delay plans to trim its bond buying later this year.
In what could be his final appearance before Congress, the Fed chief was asked if a recent run of disappointing economic data could undermine the case to begin scaling back asset purchases in September, as financial markets currently expect.
"The June FOMC meeting was only a few weeks ago," Bernanke said, referring to the policy-setting Federal Open Market Committee. "There have been some data points since then and ... they have been mixed. So I think it's way too early to make any judgment."
Bernanke's current term at the helm of the central bank ends in January and he is widely expected to depart at that point.
He remained silent on his future plans during the two hour hearing before the Senate Banking Committee, whose members offered generous praise for what one termed as his "quiet leadership" during the 2007-2009 financial crisis.
As he had in a separate round of testimony of a panel in the House of Representatives on Wednesday, Bernanke said headwinds from a tightening of fiscal policy had held back growth, and that the economy should pick up pace once this drag fades away.
The Fed has held interest rates near zero since late 2008, and more than tripled the size of its balance sheet to nearly $3.5 trillion through massive bond buying, aimed at driving down long-term borrowing costs and spurring a stronger recovery.
It currently is buying a mix of government and mortgage-backed debt at a pace of $85 billion a month.
Bernanke announced last month that the Fed expects to begin tapering these purchases later this year with an eye to ending them altogether by mid-2014, when the unemployment rate should be around 7 percent. The jobless rate was 7.6 percent in June.
"We will obviously review the data and what we're looking for is a pick up as the year progresses," Bernanke told Sen. Charles Schumer, a Democrat from New York, who pressed him repeatedly for a hint that tapering was on track for September.
The FOMC next meets on July 30-31 and September 17-18. Bernanke will hold a news conference after the September meeting.
FED WANTS BROADER-BASED GROWTH
The U.S. economy grew at a lackluster 1.8 percent annual rate during the first quarter and economists, taking into account a string of weak data on retail sales, trade and inventories, expect the second quarter was even weaker. The government issues its first estimate for the second quarter on July 31.
Employment growth, however, has been well maintained, which is significant for any decision the Fed will take on reducing its bond buying, because it has tied the purchases specifically to the outlook for the labor market.
But Bernanke spelled out that the Fed would look more broadly for confirmation the hiring would continue.
"What that means is that we want to see improvement in labor market indicators, but we also will have a sense that improvement will continue, and of course, for improvement to continue, you need to have a broader-based growth," he said.
Bernanke said the decision would be determined by incoming economic data, and whether these had knocked forecasts for a gradual economic improvement off course. He allowed it was "possible" that the economy was still on track with forecasts the Fed laid out last month, but stressed it was premature to reach a final judgment.
"One of the reasons that the economy has been so slow in the early part of 2013 is because of fiscal factors," he said.
"It's hard to judge how long those factors will last. But if the economy begins to move beyond that point, and fiscal restraint becomes somewhat less pronounced then we should see ... a pick-up in growth," he said.
(Additional reporting by Ann Saphir in San Francsico, Jonathan Spicer in New York and Paige Gance in Washington; Editing by Chizu Nomiyama)
Updated Date: Jul 19, 2013 05:01 AM