Bangalore: Former IPS officer and activist Kiran Bedi on Saturday demanded an investigation into whether Geetika Sharma's mother Anuradha Sharma committed suicide due to political pressure or continued depression.
"Was it a continuing depression or a new threatening from Gopal Goyal Kanda (former Haryana Minister). I think these are two things we need to verify as part of investigation," she told reporters on the sidelines of an event in Bangalore.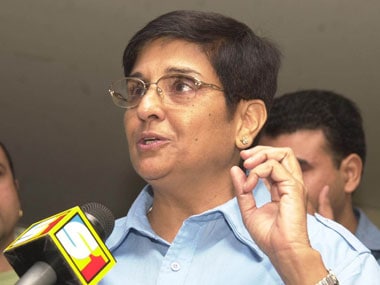 Bedi said if the family members of Anuradha had lodged a written police complaint about the harassment, the suicide could have been prevented. "If they would have given it in writing, the police would have got into the neck of the case. This man Kanda could have been restrained further," she said.
The family members could have also approached the court and complained about their harassment, Bedi said. "I think that is the message we need to give. We got to be proactive about ourselves," she said.
Former air hostess Geetika's mother had committed suicide by hanging herself inside her house in New Delhi on Friday evening.
Geetika's mother, in her suicide note, mentioned that she was taking the extreme step because her family was being harassed by the same people that her daughter had named in the notes she had left.
In reply to a query on the VVIP chopper deal, Bedi asked the Centre to "bring back the money" to India which was paid as "kickbacks" in the deal. "What step the government has taken to issue a notice to get the money back. It is our money," she said.
Bedi said the CBI is capable if it decides to investigate the chopper deal. It has lots of resources and expertise and can also take RBI's help.
PTI
Updated Date: Feb 16, 2013 21:55 PM