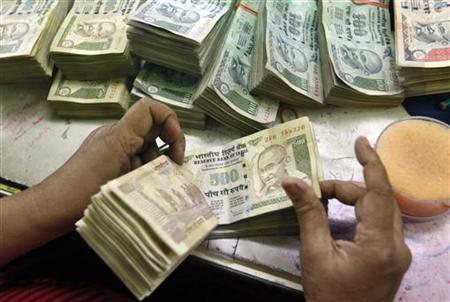 MUMBAI (Reuters) - Credit growth at Indian banks was almost stagnant in the first five months of the fiscal year that started in April, as policy inaction and bureaucracy held up major infrastructure projects and dampened investor sentiment, bankers said.
Banks' loans grew 0.6 percent as of August 24 since the beginning of April, while deposits were up 3.2 percent, data from the Reserve Bank of India showed on Wednesday.
The central bank forecast a credit growth of 17 percent and deposit growth of 16 percent for the full fiscal ending in March 2013.
"The infrastructure sector absorbs a large chunk of bank credit, but it has been facing various issues like not getting clearances from the government, which has hampered credit growth," a senior official of a state-run bank, who did not wish to be named, said.
Typically, banks see higher demand for credit in the second half of the fiscal year, but this year, though some pick-up in credit is expected in the October-March period, bankers said they could fall short of the RBI forecast.
As of August 24, banks' credit stood at 47,217.92 billion rupees, marginally lower than 47,234.58 billion rupees two weeks ago, while deposits were at 62,916.99 billion rupees, up 0.1 percent. (Reporting by Shamik Paul;Editing by Sunil Nair)
Updated Date: Sep 05, 2012 23:31 PM