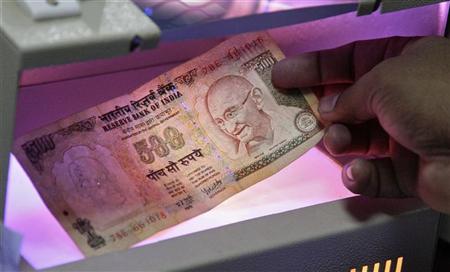 MUMBAI (Reuters) - Indian banks' advances rose at a much slower pace in the first half of the current fiscal year compared with the same period last year as the economy slowed, with bankers doubting the loan growth could miss the central bank's full year projection.
Banks' advances grew 2.2 percent to 48,093.84 billion rupees as of October 5 since the start of the fiscal in April, data from the Reserve Bank of India showed on Wednesday. In the year-ago period, loans grew 7.1 percent.
During the period, deposits grew 4.9 percent to 64,110.36 billion rupees, compared with a growth of 9.7 percent in the corresponding period last year.
The incremental credit deposit ratio, which reflects fresh demand for loans in proportion to deposits, fell to 35 percent from about 55 percent in the previous year.
A senior executive with a Mumbai-based private bank said he expects the credit growth for the full year to be at about 13-15 percent, lower than the central bank's projection of 17 percent.
However, some improvement in demand is seen in the second half of the fiscal, which is typically the busy season.
"In the last six months or so, there were hardly any new proposals from corporates, but now we are seeing a trickle," said a senior executive from a state-run bank who did not want to be named.
"We definitely see some recovery," he said.
The country's economy languished near its slowest in three years in the June-quarter, but was slightly better than expected, signalling the worst may be over for Asia's third largest economy.
India's factory output in August rose modestly at 2.7 percent, higher than what economists had forecast, but analysts said it is too early to say it marks a revival in growth.
(Reporting by Shamik Paul; Editing by Anand Basu)
Updated Date: Oct 17, 2012 23:01 PM