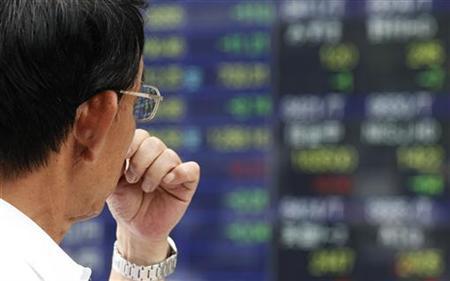 TOKYO (Reuters) - Asian shares rose as strong overnight performances in global equities and firmer economic sentiment in Germany buoyed sentiment, while the dollar was pressured ahead of the outcome of the U.S. Federal Reserve's policy meeting later in the day.
MSCI's broadest index of Asia-Pacific shares outside Japan nudged up 0.3 percent to a 16-month peak. The index has hit successive 16-month highs since December 5.
Australian shares rose 0.5 percent to a nearly 17-month high on the back of Wall Street gains and higher iron ore prices. South Korean shares opened up 0.4 percent.
Japan's Nikkei share average opened 0.9 percent higher to a 7-1/2-month high, led by gains in tech shares and other exporters on the weak yen.
The dollar remained broadly under pressure on expectations the Fed will take further monetary easing step, pushing the currency down to a three-month low against the Australian dollar. The euro popped back above $1.3000, pulling away from a two-week low of $1.2876 plumbed Friday.
The Fed is expected to announce it will buy $45 billion per month of longer-dated Treasuries beginning in January on top of the $40 billion in mortgage-backed security purchases it announced in September. The new buying will replace the Fed's current programme, Operation Twist, which expires at the end of December.
"Although the view that the Fed will shift to outright Treasury purchases is now very widely shared by market participants, we do not believe it has been fully reflected into markets or in positioning," said Vassili Serebriakov, a strategist at BNP Paribas.
"Accordingly, dollar weakness is highly likely should the Fed shift to outright U.S. Treasury purchases."
Against the yen, the dollar steadied at 82.50 yen. The Japanese currency has also been pressured by expectations for more easing from the Bank of Japan, which meets next week.
Data on Wednesday showed Japan's core machinery orders rose 2.6 percent in October from the previous month, up for the first time in three months but below a 3 percent rise forecast, highlighting how uncertainty over the global outlook continued to weigh on business investment and the broader economy.
Investors also closely followed developments in U.S. budget talks to avert the "fiscal cliff," some $600 billion of tax hikes and spending cuts scheduled to start in January, which economists have warned could send the U.S. economy into recession and drag down the fragile global economy.
The White House and U.S. House of Representatives Speaker John Boehner have exchanged new proposals in fiscal cliff talks, congressional aides said on Tuesday, in a possible sign of progress ahead of the end-of-year deadline.
A group of high-profile chief executives urged President Barack Obama and Republican congressional leaders on Tuesday to strike a deal, reflecting mounting urgency to resolve the issue with time running out.
Hopes for a resolution in U.S. fiscal crisis and an unexpectedly strong reading on Germany's ZEW economic sentiment index nudged investors toward riskier assets such as stocks on Tuesday.
In early Asia, U.S. crude futures inched up 0.1 percent to $85.87 a barrel.
(Additional reporting by Ian Chua in Sydney; Editing by Eric Meijer)
Updated Date: Dec 12, 2012 06:15 AM