Asian shares near five-and-a-half-month highs as oil prices rise | Reuters
TOKYO Asian shares hovered close to 5-1/2-month highs on Thursday as oil prices showed surprising resilience partly on hopes that oil producers may eventually agree on a measure to ease a global glut. MSCI's broadest index of Asia-Pacific shares outside Japan rose 0.3 percent while Japan's Nikkei gained 2.0 percent. Wall Street shares ended less than 2 percent short of a record-high close on Wednesday as a rebound in oil prices added to optimism sparked by a raft of earnings reports
TOKYO Asian shares hovered close to 5-1/2-month highs on Thursday as oil prices showed surprising resilience partly on hopes that oil producers may eventually agree on a measure to ease a global glut.
MSCI's broadest index of Asia-Pacific shares outside Japan rose 0.3 percent while Japan's Nikkei gained 2.0 percent.
Wall Street shares ended less than 2 percent short of a record-high close on Wednesday as a rebound in oil prices added to optimism sparked by a raft of earnings reports.
The S&P 500 gained 0.08 percent to 2,102.4, and up 15 percent since mid-February.
Oil prices held near five-month high hit on Wednesday, when they rose 4 percent after a smaller-than-expected build in U.S. crude inventories offset supply-glut worries stirred by the end of a Kuwaiti strike.
Oil bulls also bet that major crude producers would meet again to try to curtail output even as Moscow denied media reports that Russia planned to host such a meeting.
Just on Sunday, Russia and OPEC nations failed to reach an agreement on freezing production at a meeting in Doha, Qatar.
"Despite denial from Russia, oil prices were strong, pointing to strong market sentiment. I suspect there is speculation that oil producers will eventually agree on an output freeze," said Masahiro Ichikawa, senior strategist at Sumitomo Mitsui Asset Management.
Brent futures traded at $45.37, down 0.9 percent in early Asian trade but still not far off its five-month peak of $45.88 hit late on Wednesday and way above Wednesday's low of $42.81.
Many other commodity prices were also firm, with copper rising to as high as $4,981 a tonne on Wednesday, its highest level in about a month.
The Thomson Reuters Core Commodity Index also rose above its March peak to its highest level since early December. Silver extended gains after Tuesday's sharp gains to hit an 11-month high of $17.185 per ounce. It last traded at $17.03, up 4.7 percent so far this week.
In contrast, gold stayed in its well-worn $1,210-1,280 range since February and last stood at $1,245.10 per ounce, up 1.0 percent on the week.
In the currency market, commodity-linked currencies held firm.
The Canadian dollar hit a 9-1/2-month high of C$1.2593 to the U.S. dollar. It last stood at C$1.2652.
The Australian dollar stood at $0.7793, having hit an 11-month high of a $0.7830 on Wednesday.
Against other currencies, the U.S. dollar maintained a firm tone overall, and held an upper hand against the euro ahead of the European Central Bank's policy meeting later in the day.
ECB President Mario Draghi is likely to drive home the case for ultra-loose monetary policy on Thursday, hitting back after a barrage of criticism from German officials who dispute the bank's recipe for tackling the euro zone's economic malaise.
The euro traded at $1.1298, having fallen 0.5 percent on Wednesday.
Against the yen, the dollar held near two-week highs at around 109.78 yen.
(Editing by Shri Navaratnam)
This story has not been edited by Firstpost staff and is generated by auto-feed.
Arts & Culture
Select cartoons across his career as a cartoonist are collected in his upcoming book Green Humour for a Greying Planet, out this month.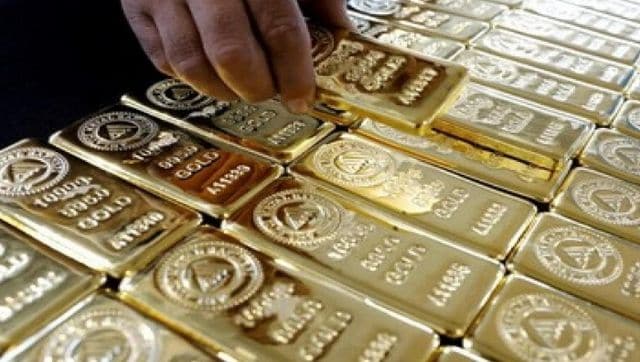 Business
In the international market, gold was trading lower at $1,858 per ounce and silver was flat at $27.70 per ounce.
India
Over 90 percent of the palm oil imported by India comes from Malaysia and Indonesia where environmental concerns associated with the production are routinely highlighted. Indian companies are making efforts towards a sustainable supply chain of palm oil.