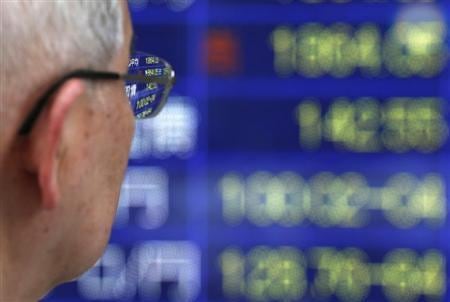 TOKYO (Reuters) - Asian shares edged higher on Tuesday, taking their cue from U.S. shares after weaker-than-forecast retail sales growth backed the view that the U.S. Federal Reserve will hold off reducing its bond-buying stimulus anytime soon.
MSCI's broadest index of Asia-Pacific shares outside Japan added about 0.1 percent to 440.75.
Citigroup's strong earnings helped the S&P 500 end higher on Monday for an eighth straight day, the longest such streak since mid-January.
The Nikkei share average rose 0.8 percent, catching up after Japanese financial markets were closed for a public holiday on Monday.
"As U.S. stocks edged up to new all-time highs, the yen got softer again, and as there are no major domestic events scheduled this week, it's only reasonable to predict that the Nikkei will test a new (7-1/2-week) high," said Kenichi Hirano, a strategist at Tachibana Securities.
U.S. retail sales increased 0.4 percent last month, half of the rise economists polled by Reuters had forecast, according to U.S. government released on Monday. The slowdown prompted economists to downgrade their second-quarter growth forecasts to an anaemic 1 percent increase.
While the Fed is focusing on labour market improvements to determine when to begin tapering its $85 billion in monthly purchases, weakness in the consumer sector could indicate broader economic problems. Investors await Fed Chairman Bernanke's twice-yearly monetary policy report to the Congress on Wednesday and Thursday for more clues on the central bank's policy outlook.
A separate report on Monday showed that growth in New York state's manufacturing sector accelerated in July.
Yields on U.S. benchmark 10-year Treasury notes were last at 2.542 percent, steady from their U.S. close of 2.543 percent and well below a two-year high of 2.76 percent touched on July 8.
The dollar index gained about 0.1 percent to 83.109 in early trade, moving away from last week's two-week low of 82.418 toward a three-year high of 84.753 set last Tuesday.
The dollar was little changed versus the yen at 99.91 yen, well below last week's high of 101.21 yen on Wednesday.
The euro was edged down to $1.3059, moving away from last week's three-week high of $1.3201, as concerns rose about Spain's political and financial woes.
Spanish Prime Minister Mariano Rajoy said on Monday he ruled out stepping down after opposition leaders called for him to leave office over a ruling party financing scandal.
The political turmoil came against a backdrop of a deepening credit crunch that threatens banks and the broader economy, the International Monetary Fund warned in a report on Monday.
The Australian dollar added about 0.2 percent to $0.9107, taking back lost ground after it fell below 90 U.S. cents on Friday.
Investors awaited minutes from the Reserve Bank of Australia's July meeting, at which the central bank kept its cash rate at a record-matching low of 2.75 percent as expected and reiterated that there could be room for further cuts as the local currency was still high.
"We expect the RBA board minutes from the 2 July meeting, released later today, to reiterate the RBA's easing bias and preference for the AUD to fall further, strategists at Barclays said in a note to clients.
The Barclays strategists added that they continue to prefer taking short positions in the Australian dollar against its U.S. counterpart, in light of Australia's dependence on raw material shipments to China. China is Australia's single biggest export market.
Data on Monday showed that China's second-quarter economic growth cooled to 7.5 percent from the year-earlier period from 7.7 percent in the previous quarter, in line with expectations.
Commodity markets continued to take the Chinese data in stride, relieved it did not disappoint.
Copper added 0.1 percent to $6,924.75 a tonne, while U.S. crude rose 0.2 percent to $106.56 a barrel.
(Additional reporting by Tomo Uetake; Editing by Eric Meijer)
Updated Date: Jul 16, 2013 06:45 AM