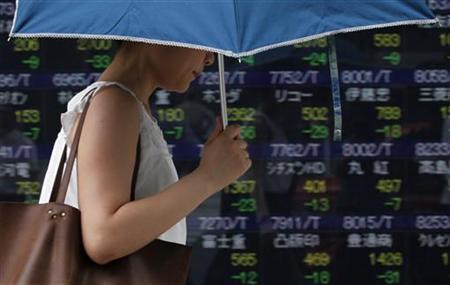 TOKYO (Reuters) - Asian shares and the euro eased on Friday as the European Central Bank, after inaction from the Federal Reserve, disappointed markets looking for an imminent move to deal with the euro zone debt crisis, spurring risk aversion.
Investors also have reasons to be more cautious ahead of a key U.S. nonfarm payrolls data for July due at 1230 GMT, with job creation of less than the 100,000 forecast likely to boost hopes the Fed, which on Wednesday stood pat with its current monetary policy, would embark on further easing as early as next month.
The euro hit all-time lows against the Australian and New Zealand dollars in early Asia trade around A$1.1600 and NZ$1.4980 respectively, and traded at $1.2176 against the U.S. dollar, not far from a one-week low of $1.21335 touched after investors digested the ECB's news on Thursday.
MSCI's broadest index of Asia-Pacific shares outside Japan eased 0.4 percent and Japan's Nikkei stock average slid 1.3 percent at the open, after global stocks tumbled on Thursday.
Expectations for bold actions had run high after ECB President Mario Draghi on Thursday last week vowed to do whatever it takes to preserve the euro.
"Draghi's comments last week suggested at something much more urgent and many bubbles were popped by the bank's rather lacklustre response relative to sky-high expectations," said Lim Soo-gyun, an analyst at Samsung Securities.
The ECB, after keeping interest rates steady, indicated it may resume buying government bonds to drive down surging Spanish and Italian borrowing costs, but passed the baton back to euro zone governments by saying they must act first.
Draghi hinted that any intervention would not come before September, and only if governments activated the euro zone's bail-out funds to join the ECB in buying bonds, but he said the bank would consider other "non-standard" measures, hinting at quantitative easing.
By noting signs of an economic recession spreading across the continent, Draghi also left the door open for future rate cuts.
"It was obviously disappointing not to get outright buying of bonds by the Fed and ECB, but it seems they will come and in the case of the ECB, could be unlimited," said Chris Weston, a dealer at IG Markets in Melbourne.
"It will be interesting to see the reaction of the Asian trading community who have the benefit of going through the information with a clear head, and perhaps not get caught up in the emotion that saw a few traders close out of long positions overnight," he said, adding that the next key event risk was U.S. payrolls report.
U.S. and European shares fell on Thursday, but euro zone bank shares and Spanish stocks were still up since Draghi pledged to help the euro last week, while Europe's volatility index fell 6 percent on Thursday, signalling investors are still willing to take risk.
Risk aversion may also be tamed somewhat as data on Thursday showed the number of Americans filing new claims for jobless benefits rose last week and manufacturers suffered an unexpected drop in orders in June, suggesting the economy is struggling to break out of a soft patch and needs more monetary stimulus.
The Fed said at this week's meeting that it is prepared to act if the economy deteriorates further, and economists say the U.S. central bank is buying time to lay the groundwork for further monetary easing possibly at its September 12-13 gathering.
U.S. Treasuries prices jumped on Thursday as the ECB took no concrete action, rekindling safe-haven bids for government debt.
Brent crude inched down 0.1 percent at $105.83 a barrel while U.S. crude futures inched up 0.3 percent to $87.36.
Market jitters unsettled Asian credit markets, sending the spread on the iTraxx Asia ex-Japan investment-grade index wider by 4 basis points.
(Additional reporting by Joonhee Yu in Seoul; Editing by Eric Meijer)
Updated Date: Aug 03, 2012 06:45 AM